We want to show you the three best pictures in Valencia, taken in a private shore excursions Valencia.
We were born in this wonderful Mediterranean lands, and each corner of each village for us is special, full of life full of histories.Because of this we are going to analyse 3 different pictures of Valencia taken in a private shore excursions Valencia and let you know why they are special and for us the best.
1-. Silk Exchange Building
Although we can´t appreciate where this picture was taken, we know thanks to its gothic decoration, that it is the front door for the Silk Exchange Building in front of the Central Market. This stunning bulding declared by the UNESCO World Heritage of the Mankind it´s considered to be the jewel of the XVth century, the jewel of the Mediterranean Gothic Style.
This picture was taken in a sunny and briliant day in one of our private shore excursions Valencia. This is a very special neighbordhood because in a few netres you have this building, the Central Market and also the Santos Juanes church in baroque style. A corner which can show you the hole history of Valencia! Check it on your own booking a private shore excursions Valencia with us!!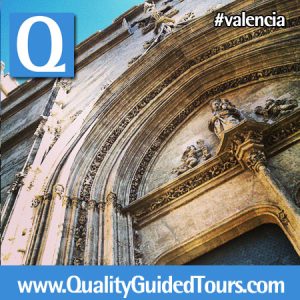 2-. The Cathedral of Valencia
Hundreds of years ago this square was the main religious corner or square in Valencia. We are talking about the Virgin Square. This picture shows the baroque gate or also known as the "forge gate" because of its metal gate for protecting the entrance, and it also appears "El Micalet" (The little Micheal belltower). "El Micalet" is a belltower with 11 bells, with a spectacular terrace from which you can have panoramic views over all Valencia. We have a private shore excursion Valencia, that if you tell us in advance we can visit the "El Micalet" belltower.
3-. City of Arts and Science
Stunning, futuristic and avant-garde city located in the Turia riverbed, designed by the Valencian Architect Santiago Calatrava shows us, in different buildings matters and topics related with the science.
The Hemiferic, the building which appears in the picture, was inagurated in 1998 and we can watch movies/documentaries in 3D and choose the language you want!.
We love this picture because it reflects perfectly what Santiago Calatrava wanted to show. Water, sun and light it´s all you can find in Valencia. Ask for a private shore excursion Valencia and visita the CIty of Arts ans Science.