Description
Enjoy this Novelda winery 4h private shore excursions with your own, couple, family or private party

Alicante´s province is full of feelings, festivities, heritage and flavours.
Start the day with our private tour guide Alicante and also driver in Alicante (meeting point at your convenience). You will leave Alicante city driving 25 min. The first stop will be  "La Mola´s Castle" in Novelda a fortress of Islamic origin, it was built in the late 12th century. It has a polygonal floor shape with eight square cubes overhanging. Today only four remain, two of which are covered up. Declared an Historical Artistic Monument of National Interest in 1931.
Keep enjoying this special village. Now it´s time for the Saint Mary´s Magdalene Sanctuary. This religious building was built as part of a project undertaken by Novelda-based engineer, decorated in Catalan Modernist style. The decorative motifs have their origin in medieval and Baroque styles and in nature itself – influences that led the architect to combine pebbles from the Vinalopó River with polychromatic tiles, bricks, red bricks and masonry work as reflected all over the outside of the building.
After this Novelda 4h private shore excursions, we change the point and we will focuse our tour visiting a winery located in Novelda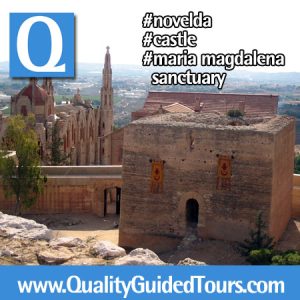 Not so far from the castle, we will visit with your private tour guide Alicante the wineyards, ancient farmhouse and winery visit. After that we will taste 3 different wines (Azal White Wine, Ad Gaude Heretat red Wine and Cesilia Rosé) accompanied by some tapas. In this place, you must taste our local grape variety: monastrell.
Experience the best of this lands: history + wine accompaniend by official and local private guides. We will show you our passion about out Mediterranean culture and you will discover that we are 100% wine lovers!!
History of art professionals + wine lovers, this is what you will find in this Novelda 4h private shore excursions
What´s included in this Novelda 4h private shore excursions:
"La Mola´s castle" ticket.
Saint Mary´s Magdalene Sanctuary ticket.
Private tour guide Alicante / Driver
Panoramic drive in Alicante
Transport included up to 6 people by car or mini-van, if you are a bigger group, ask us for a special quatation.
Not included Novelda 4h private shore excursions:
– Wine tasting, Heretat de Cesilia (10€ – 15€ per person)
** The meeting point for this Novelda 4h private shore excursions: Volvo Ocean´s race square or up to your convenience **
[price-item item_number="3″ category="private-tour-guides-4h"]
CHECK THE PLACES YOU WILL VISIT IN THIS NOVELDA 4H PRIVATE SHORE EXCURSIONS:
Ana & Jordi Linares Private Tour Guides Alicante
 Download complete information about our private guided tours
Download a catalogue (.pdf) with complete information about each destination (all our tours, meeting point, cancellation policy, recommendations, private transport, etc)
Alicante | Benidorm | Cartagena | Valencia
** Private shore excursions and tours developed by Qualified Local Guides. Book only professional tour guides. If you are travelling with a private group, family or friends, you can book a private guided tour + transport for your party **