Description
Enjoy The best of Murcia and Cartagena private shore excursions 6h with your own, couple, family or private group from 1 to 6 people
Begin the best of Murcia and Cartagena shore excursions 6h enjoying the panoramic views of Murcia´s horchard and lemon trees plantations. Along 60km our expert and local private tour guide will explain you the importance of this fields not only in Spain, all around Europe.
As soon as you get to Murcia, you will feel a different environment surrounded by flowers, trees and an amazing weather.
In this tour "the best of Murcia and Cartagena shore excursions 6h", discover the most important temple in the Region, the cathedral is a magnificent merge of styles, a catalogue of stone which summarizes more than six centuries of art and history. The Capilla de Los Vélez covered by a ten-pointed star vault and profusely decorated it is one of the best parts of the cathedral. Accompanied by your private tour guide you will discover the best corners in Murcia.
Continue enjoying the best of Murcia and Cartagena shore excursions 6h walking in its main streets and squares full of life, full of history. Admire the "Real Casino of Murcia" with its different rooms and hall, built in a little palace on 11 June 1847. One of the splendor of this building is due to the "Moorish patio" or "the Pompeian Patio". You will be back to the 19th century visiting this palace!
Murcia is beautiful, Murcia is different and you will have the chance to discover the traditions, festivities, cuisine and history.In 45min you will be back to Cartagena´s.
If times allows we will stop at Fuensanta Sancturary.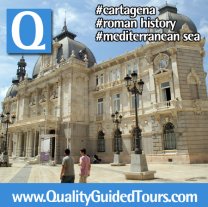 In Cartagena your private tour guide will show you the Intepretation Center of Punic Walls where to learn a bit more about the history and its different societies. Our second stop in Cartagena will be at the panoramic elevator thet drives you to the Conception Castle where to explore the best views over our roman theater and roman amphitheater, two "must see" in Spain. Enjoy a moderate walking tour discovering the city hall and "Calle Mayor".
What's included in the best of Murcia and Cartagena shore excursions 6h:
• Cathedral entrance (Murcia)
• Visit Fuensanta Sanctuary (If time allows)
• Roman theater + amphitheater of Cartagena: panoramic views through the Concepcion Castle
• Interpretation Center of the Punic Walls + panoramic elevator in Cartagena (ticket not included)
• 6h private tour guide in Cartagena and Murcia
• Transport up to 6 people by car or mini-coach. If you are a bigger group ask us for a special quotation
Not included in the best of Murcia and Cartagena shore excursions 6h:
• Entrance to the "Real Casino" + Sanctuary (Murcia): 10€ p.p
• Entrance to Punic Walls and Panoramic elevator (Cartagena) : 10€ p.p
Check our meeting point for tthe best of Murcia and Cartagena shore excursions 6h:
CHECK THE PLACES YOU WILL VISIT IN THE BEST OF MURCIA AND CARTAGENA SHORE EXCURSIONS 6H:
 Ana & Jordi Linares Private Tour Guides Cartagena:
 Download complete information about our private guided tours
Download a catalogue (.pdf) with complete information about each destination (all our tours, meeting point, cancellation policy, recommendations, private transport, etc)
Alicante | Benidorm | Cartagena | Valencia
** Private shore excursions developed by Qualified Local Guides. Book only professional private tour guides. If you are travelling with a private group, family or friends, you can book a private guided tour + transport for your party