Enjoy your time in Alicante with a Sangria Tasting Alicante.
Sample Sangria, this famous Spanish alcoholic drink surrounded by the best weather and the Mediterranean sea.
Sangria Tasting Alicante normally consists of wine, chopped fruit, a sweetener, and a small amount of added brandy. Chopped fruit can include orange, lemon, lime, apple, peach, melon, berries, pineapple, grape, kiwifruit and mango. A sweetener such as honey, sugar, syrup, or orange juice is added. Instead of brandy, other liquids such as Seltzer, Sprite or 7 Up may be added.
-For lunch time: a great way to accompany your lunches and dinners is with what's known as "tinto de verano" ("summer red wine").
The use of the word sangria in labels is now restricted under European law. Only sangria made in Spain and Portugal will be allowed to sold under that name after the European Parliament green-lighted new wine labeling in January 2014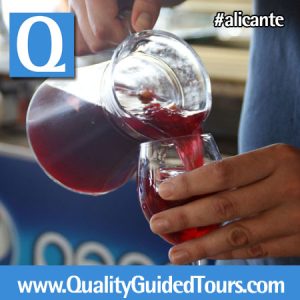 The best of doing a Sangria tasting Alicante it´s with whom will you share this moment? Don´t dare an ask for for this kind of enjoyable activities: make your own Sangra and then taste it!! It will be just great!