Description
Enjoy this Sagunto Roman city tour with private transport for your own, couple, family or private group from 1 to 6 people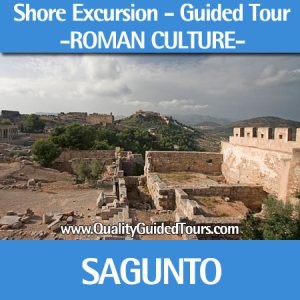 What aboout our Sagunto Roman city tour?. Are you a history lover? Do not miss the chance to discover the Roman village of "Saguntum" in a specific Sagunto Roman city tour with our private tour guides from Valencia city. We will drive 30 minutes from Valencia enjoying a wonderful view of the beach . This Sagunto Roman city tour will start near the river discovering the old jewish quarter. We will walk swimming inside more than 25 centuries of history. After a short walking tour we will visit the castle with its strategic location for controlling all the Mediterranean coastline: the same fortress that had in check the great Carthaginian General Anibal for 8 months during the III b.C. We will continue with one of the most impressive visits of this tour: the Roman Theatre, with a capacity of 4.000 seats we will introduce the meaning of its "cavea" and its functions. Get involved with the roman culture in this amazing visit to Sagunto.
Finally we will get to the historical city of Sagunto for walking in the main jewish neighborhood and discovering its narrow streets, palaces and different church. A special tour focused in the Roman empire and its evolution!.
We will have also time to explore the industrial port of Sagunto and its legacy left in the city
Enjoy the Roman past of one of the most emblematic cities of the Valencian Community: Sagunto. Its imposing Castle, Roman Theater and the different valleys; our privte tour guide in Valencia will show the visitor a population with more than 25 centuries of history.
For a local and roman experience book an official private tour guide from Valencia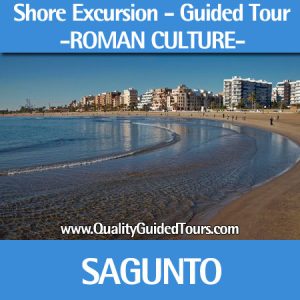 What's included in our Sagunto Roman city tour:
• 4h private tour guide from Valencia. Guide / driver the same person
• Entrance to the roman theater
• Entrance to the medieval castle
• Transport included up to 6 people by car (4 people) or mini-coach (6 people). We offer the chance to book a coach if you are a bigger group, ask for your special quotation.
Not included in our Sagunto Roman city tour:
• Lunch or tapas
 Ana & Jordi Linares Private Tour Guides Valencia:
 Download complete information about our private guided tours
Download a catalogue (.pdf) with complete information about each destination (all our tours, meeting point, cancellation policy, recommendations, private transport, etc)