What's a paella show cooking Valencia?
Discover this unique activity Paella show cooking Valencia!! Learn from a local chef and practice how to cook a real Paella, following a local recipe in the popular city of Valencia.
What is a "Paella"?
Paella  is a Valencian rice dish that originated in its modern form in the mid-19th century near lake Albufera, a lagoon in Valencia, on the east coast of Spain.
Now you have the chance to learn and discover the secret of this dish in our Paella show cooking Valencia.
There are three widely known types of paella: Valencian paella (Spanish: paella valenciana), seafood paella (Spanish: paella de marisco) and mixed paella (Spanish: paella mixta), but there are many others as well.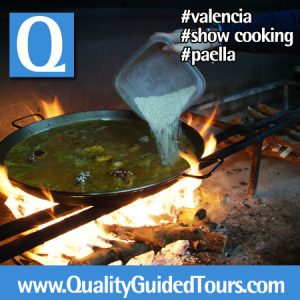 Some of the ingredients needed for cooking a real Paella Show cooking are:
1 kg. rice
2 kg. chicken
1 kg. rabbit
300 gr. tomato
500 g. green beans
250 g. garrofó (a variety of white bean used for making the typical Valencian paella)
100 g. peppers (optional)
2 dozen snails (optional)
3 dl. olive oil, few strands saffron, garlic (optional), sprig of rosemary (optional)
6 gr. paprika, salt
3.5 l. water.