Description
Enjoy this Alicante 3h private walking tour with your own, couple, family or private group from 1 to 35 people
 Private walking tour to Alicante. World famous for its lively Bonfires of San Juan festival, Alicante is an enchanting and historic Mediterranean port city that is best explored with a private guide. Skip the cookie cutter tour itineraries and explore this beautiful city in style.
Admire, in this tour Alicante 3h private walking tour, the spectacular Santa Bárbara Castle on strategic Mount Benacantil overlooking the city as you sip on some typical Sangria and enjoy superb views of the bay. Down in the Old Town you will discover tranquil Mediterranean neighborhoods of colorful buildings and a typical zest for life.
Go to the Co-cathedral of St. Nicholas of Bari, built on the remains of a mosque in the 17th century. Admire the Baroque façade of the Town Hall, and the modernist Casa Carbonell, one of the city's most striking buildings. Through Carbonell building you will discover the economical boom during the S.XX and different interesting and fun histories about the Carbonell family. The city's esplanade: Explanada de España, is also the place to be dazzled by more than 6 million ceramic tiles on the promenade floor at the end of your tour.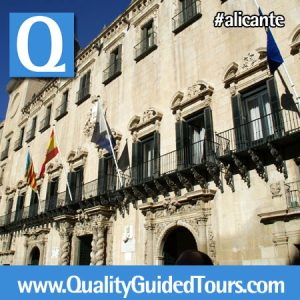 You will get surprised byt this charming city of Alicante. Let us show you the best of the city, walk in the streets and meet local people, local restaurants and local experiences on the first hand.
What's included in our "Alicante 3h private walking tour":
• Santa Barbara Castle
• St. Nicolás
Not included in our "Alicante 3h private walking tour":
• Sangria tasting (3€)
• Lift to "Santa Barbara Castle" (5€)
• Transport not included. We offer the chance to book a car/van or mini-coach or using public transport
** Check the meeting point for this Alicante 3h private walking tour:
CHECK THE PLACES YOU WILL VISIT IN THIS ALICANTE 3H PRIVATE WALKING TOUR:
Ana & Jordi Linares Private Tour Guides Alicante
 Donwload complete information about our private guided tours
Download a catalog (.pdf) with complete information about each destination (all our tours, meeting point, cancellation policy, recommendations, private transport, etc)
Alicante | Benidorm | Cartagena |Valencia
** Private walking tours developed by Qualified Local Guides. Book only professional guides. If you are travelling with a private group, family or friends, you can book a private guided tour + transport for your party **