Explore the city center of Alicante in a tapas tour, while we enjoy eating some tapas + drinks we will learn about the different areas in Alicante, some tourist aspects and the special Mediterranean Diet. Make a day different with this Alicante tapas tour .
Alicante tapas tour is a different way to visit the city
Discover the Mediterranean diet, its principal aspects and some typical recipes. In the Alicante tapas tour you will soak inside this diet.
What does the Mediterranean diet include?
It includes proportionally high consumption of olive oil, legumes, unrefined cereals, fruits, and vegetables with also a moderate consumption of wine.
What does "tapa" mean?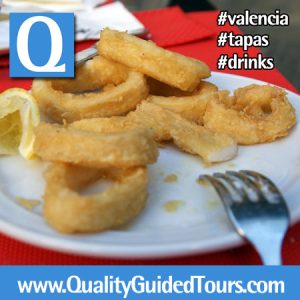 Spanish people enjoy a lot having lunch or dinner outside home, basically because of our lovely weather. Going for some tapas with our friends is the best activity we like practising.
So when we meet with our friends or families, we go to different restaurants for tasting some tapas.
The meaning for "tapa" is small portions of a dish, a wide variety of appetizers. In Spain, patrons of tapas can order many different tapas and combine them to make a full meal. We usually ask different tapas for sharing them with the rest of the group so we will have a wonderful meal with several kind of food: vegetables, meet, fish…
The serving of tapas is designed to encourage conversation, because people are not so focused upon eating an entire meal that is set before them.
In our case we will stand in one bar and move about while we eat some tapas and we visit some interesting sites, such us: the Alicante´s Town Hall, the Co-Cathedral…