Description
Enjoy this Murcia 3 hours private walking tour with your own, couple, family or private group from 1 to 35 people
Private walking tour in Murcia As soon as you get to Murcia, you will feel a different environment surrounded by flowers, trees and an amazing weather.
In Murcia, you will start with your private tour guide discovering the most important temple in the Region, the cathedral is a magnificent merge of styles, a catalogue of stone which summarizes more than six centuries of art and history. The Capilla de Los Vélez covered by a ten-pointed star vault and profusely decorated it is one of the best parts of the cathedral. Continue enjoying this spectacular city, walking in its main streets and squares full of life, full of history.
Sun, experiences and much more you will find it all in: Murcia 3 hours private walking tour
In this Murcia 3 hours private walking tour, we will have time to admire the "Real Casino of Murcia" with its spectacular modernist façade. You will be back to the 19th century visiting this palace accompanied by your private tour guide in Murcia!. This city is beautiful, Murcia is different and you will have the chance to discover the traditions, festivities, cuisine and history. This private walking tour will finish tasting the local cuisine; try some tapas or wines from this region.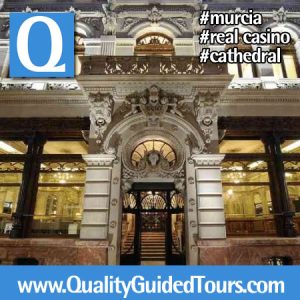 Just walking in this street it will be great, as it´s a pedestrian one surrounded by a special enviroment, with nice and fab stores where you will have the chance to feel a Spanish experience.
What's included in our Murcia 3 hours private walking tour:
• Walking tour
•  3h private tour guide in Murcia
Not included in our Murcia 3 hours private walking tour:
• Entrance to the "Real Casino" & Murcia´s Cathedral: +10€
• Drink and tapa
Check our meeting point for the Murcia 3 hours private walking tour:
CHECK THE PLACES YOU WILL VISIT IN THIS MURCIA 3 HOURS PRIVATE WALKING TOUR:
** Private walking tours developed by Qualified Local Guides. Book only professional private tour guides. If you are travelling with a private group, family or friends, you can book a private guided tour + transport for your party
 Ana & Jordi Linares Private Tour Guides Cartagena:
 Donwload complete information about our private guided tours
Download a catalog (.pdf) with complete information about each destination (all our tours, meeting point, cancellation policy, recommendations, private transport, etc)