Discover the Albufera Natural Park Valencia. This ancient marine gulf, evolved into a freshwater lake, is one of the most important wetlands in Spain.
The formation of the Albufera lake occurred due to the collapse of approximately 30 kilometres of the coastal band between Valencia and Cullera. The Albufera has an irregular outline, with an approximate diameter of six kilometres at its widest part. It is connected to the sea by means of canals or waterways which can be opened or closed by means of floodgates to modify the volume of water in the lake.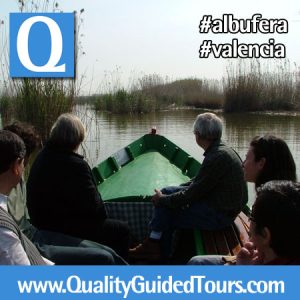 The Albufera Natural Park Valencia biodiversity of the nature reserve allows a great variety of fauna and flora to thrive and be observed year-round. While once a saltwater lagoon, dilution due to irrigation and canals draining into the estuary and the sand bars increasing in size had converted it to freshwater by the seventeenth century.
One of the best options it´s to discover The Albufera Natural park with our private tour guides Valencia.
The Albufera is a very relaxing place out of the crowd of the cosmopolitan city of Valencia.
In the Albufera lake you will find different birds specific and uniques from the wetlands areas, also local fish or the Valencian eels. In the town of El Palmar, you will have the chance to walk around and to find plenty of restaurants where they offer a unique experience to taste our "All i Pebre" made with eels, potatoes, red pepper…
"All i Pebre" it´s a delicious meal that you will find in El Palmar and some others towns surrounding the Albufera lake.
If you are staying for some days in Valencia, the first option shoul be to go for a private tour guide Valencia, and the second day the best is to visit The Albufera Natural Park.