Do you remember the II Punic War? Does it sound familiar to you the name of Hanibal? Would you like to know more about the relation between him and Cartagena?
This will be a unique and magnificient Roman tour of Cartagena specially designed by a private tour guide in Cartagena. Let us refresh your memories and your studies and listen remarkable histories and legends about Hanibal and his troops…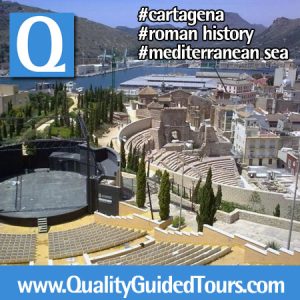 The Cartagena´s harbor is becoming more and more famous because of it´s location and great facilities to get from the port to the city center. The city has turned into a modern an wonderful city but at the same time has done a huge restoration process keeping the identity and the essence of an historical site. If you are looking for a real local experience book a private tour guide in Cartage: your private shore excursions in Cartagena or any of our private walking tours in Cartagena 
– 3h Private tour guide in Cartagena: If you are visiting Cartagena and you are arriving by ship, booking a private tour guide in Cartagena for 3h or 4h will be the best choice for your party. We will recommend you the best places such us the Punic Walls and a nice walking tour if you book 3h, or if you prefer in 4h we can visit the minery area of Portman and some fisherman villages.
– 3h "Tapas Tour experience" with a private tour guide in Cartagena: If you want to skip the normal tours, this "Tapas tur experience" will be a great activity to do. While we visit some historical sites we will enjoy some tapas at local and nice restaurants. We will have time to speak about traditions, politicians, economical situation…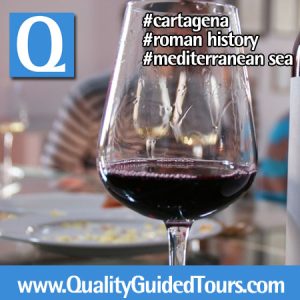 – 4h Private Tour to Murcia with private tour guide in Cartagena: Althought Cartagena is a wonderful city, you don´t have to miss the capital of this Region: Murcia. In this 4h private guided tour with private transport to Murcia, you will feel the enviroment of a real Mediterranean city. We will visit the Cathedral and the Royal Casino where to explore the society of the XXth Century.
– 4h Ricote Valley tour, private tour guide in Cartagena: If you are looking for panoramic views and landscapes this is the best tour for your preferences. In our panoramic drive to Ricote Valley we will enjoy the panoramic views of the Murcia´s horchard, we will visit a waterwheel and then we will have a nice landscape of the Segura River…
– Segway tour in Cartagena with private tour guide: Why not to discover Cartagena in a funny way but accompanied all the time by expert and licensed tour guides? The Segway is a funny and enjoyable way to discover different cities and Cartagena is one of it!! Take a 2h Segway tour and don´t get tired!.
Just the best local experience with a local guide born here. You will enjoy the best private shore excursions in Cartagena or private guided tours with our local private tour guide in Cartagena. Trust in our private services 😉