Description
Enjoy this Cartagena 4h Roman walking tour with your own, couple, family or private group from 1 to 35 people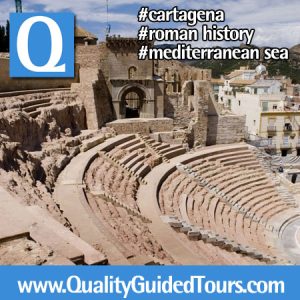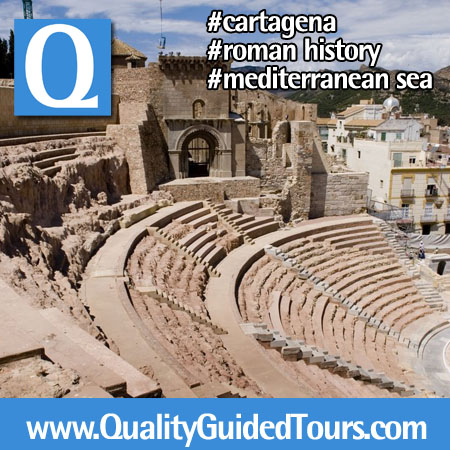 Special private tour Cartagena 4h Roman walking tour that will surf in the deep Roman history and the importance of this culture in this Mediterranean land.
We will start this Cartagena 4h Roman walking tour visiting the Interpretation Center of Punic Walls. It´s a "must-see" place because it´s the origin of Qart-Hadast, later converted it into Cartagon Nova. To understand why the Romans conquered this city we must visit this unique archeaological place from the III b.C.
After the Punic Walls visit we will continue with the Roman "House of Fortune" a unique Roman House in Cartagena with amazing paintings and a great reproduction of the Roman life style.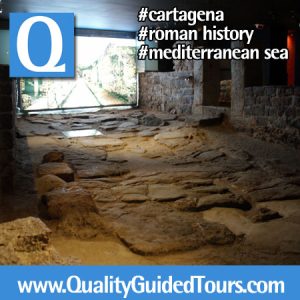 Cartagena during the Roman empire had a strategic harbor and you will see it from the outside area in the Castle. To get there we will take the elevator up to the Castle (outside visit), from there we will discover the Roman Amphitheatre too.
Unique Cartagena 4h Roman walking tour that visit the most important archeaological sites in Cartagena
Our last stop will be at the Roman Theatre the other "must see", visiting the Museum specifically designed by the spanish architect Rafael Moneo. Over there you will discover why the Roman Theatre was discovered some years ago. It's considered the 2nd largest spanish roman theater.
Once we finish with the Roman history we will have some time for enjoying the Calle Mayor, sharing some drinks and tapas or just admiring the impressive Modernist town hall.
What's included in our Cartagena 4h Roman walking tour:
• 4h local and expert private tour guide in Cartagena
•  Panoramic views from "the Conception" castle (amphitheater + theater views)
Not included in our Cartagena 4h Roman walking tour:
• Tickets: Punic Walls + House of Fortune + Panoramic elevator + Roman Theatre: 16€ (per person, payable to the guide the same day of the tour or we can include it in your electronic invoice).
Check our meeting point for this Cartagena 4h Roman walking tour:
CHECK THE PLACES YOU WILL VISIT IN THIS CARTAGENA 4H WALKING TOUR:
** Private walking tour developed by Qualified Local Guides. Book only professional private tour guides. If you are travelling with a private group, family or friends, you can book a private guided tour + transport for your party 
 Ana & Jordi Linares Private Tour Guides Cartagena:
 Donwload complete information about our private guided tours
Download a catalog (.pdf) with complete information about each destination (all our tours, meeting point, cancellation policy, recommendations, private transport, etc)