The Cathedral of Valencia was built on the site of a former mosque, and its construction began in the 13th century.
However Cathedral of Valencia continued to undergo a series of minor changes until the 17th century. The building features various different architectural styles, although there is a clear predominance of the Gothic style. Highlights in the church's interior include the Chapel of the Holy Grail, the former chapterhouse with its beautiful vault with star motifs, an image of heaven with the 12 apostles and the coronation of the Virgin Mary.
The exterior of the Cathedral of Valencia features the outstanding Puerta del Palau door, the oldest in the church, in the Romanesque style with Mudejar elements; and the 15th century Door of the Apostles.
It is here in the Gothic gate, where the Tribunal de las Aguas (the Water Court) meets every Thursday at midday. This institution was set up by King James I of Spain in the Middle Ages and is formed by eight rural workers chosen every two years by the farmers who work Valencia fertile irrigated areas. Its objective is to administer justice in all matters to do with irrigation and the distribution of water from the Turia River, through a hearing conducted in the Valencian language, whose resolutions are final and binding. The Tribunal de las Aguas survives to this day as a model institution. It was awarded the UNESCO Intangible Cultural Heritage of Humanity.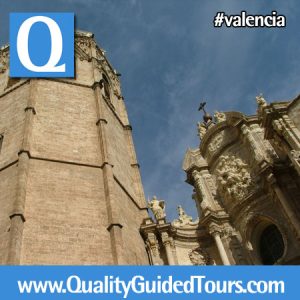 – Schedule
Mar 20 to Oct 31
From Monday to Saturday 10:00 to 18:30
Nov 01 to Mar 19
From Monday to Saturday 10:00 to 17:30
Public holidays and Sundays 14:00 to 17:00
An interesting "must-see" site in Valencia not to be missed. Our local and expert tour guides can be the best option to discover the Holy Chalice or to take you in a private tour guide Valencia.
Trust in licensed and official tour guides, trust in our private tour guides Valencia for your Cathedral of Valencia visit!!