Santa Faz Monastery Alicante a baroque jewel with a unique relic!
Santa Faz Monastery Alicante is a baroque monastery it is located 5km away of Alicante, inside the Santa Faz monastery you can discover a 15th relic from the Vatican: the holy veil of the Veronica.
There are many histories and legends about this Holy Veil, but we have one that is unique and well known: Mosen Pedro Mena, put it in the bottom of a chest, but always appeared in the top, and therefore was called off in rogativa the March 17, 1489 for lack of rain. Arriving at Canyon Lloixa the carrier could not sustain the canvas, and saw a tear welled thereof, making this the first miracle attributed to the canvas.
In the place where the miracle happened was built the Santa Faz Monastery Alicante.
The original canvas was a linen cloth with blood stains representing a face. Years later, those spots were stressed with red paint. The tremendous devotion aroused the Holy Face caused gradually, the canvas would be reduced in size due to the pieces that families of great power cut so it was placed a locket with a picture of a Santa Faz front and a picture of the Virgin Mary behind. It is one of the three faces recognized by the Vatican.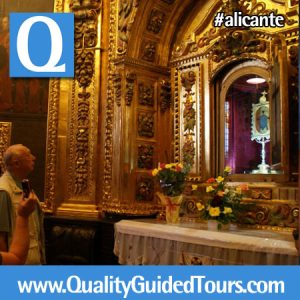 – Schedule
Monday to Thursday
10.00-14.00h
Friday
11.00- 18.00
Sunday
8.00-14.00
– Voluntary donation