Enjoy, learn and discover Alcoy, "Moors and Christians Museum".
The renewed `Alcoià´ Museum of Moors and Christians festivity means the most avant-garde contribution of the `San Jorge´ Association to the alive keeping of the traditions and essences of the Moor and Christian Festivity, using the most advanced technologies for that. A didactic , entertaining walk for the memory and history of a town.
Saint George festival dates back to the 16th century and commemorates a battle which was fought in 1276. At that time, Alcoy stood on the border of the Muslim-held territories of Spain. There were frequent skirmishes between the two factions until, on 23 April 1276, the Arab troops of Al-Azraq attempted to storm the town. According to legend, San Jorge appeared during the battle and, thanks to his intervention, the Christian army won the day, forcing the Muslims to retreat and never to return. In recognition of his timely intercession, the townsfolk of Alcoy made him their patron saint and promised to hold a festival in his honour on 23 April every year.
The devotion for Saint George is very special in this city and they celebrate the main festivities in April.
On the first day, there is a spectacular procession of Moors and Christians: the different groups that make up each army march majestically through the streets of Alcoy resplendently attired in their elaborate costumes. Around 5,000 people take part in this highly popular event. On the second day, numerous different events are held in honour of San Jorge. On the final day, a huge battle is fought in Plaza de España square in a specially-built castle which represents the city. The Muslim troops approach the castle in an attempt to persuade the Christians to surrender, but the offer is rejected and the ensuing battle ends with the Moors taking over the stronghold. In the afternoon, the Christian army returns and succeeds in retaking the castle. Then, after unsuccessfully negotiating a surrender, the final battle begins in which the Moors are ultimately defeated. In the evening, an appearance by San Jorge marks the end of the three days of festivities, at least until the following year. The patron saint of Alcoy appears on horseback, shooting arrows from the top of the castle.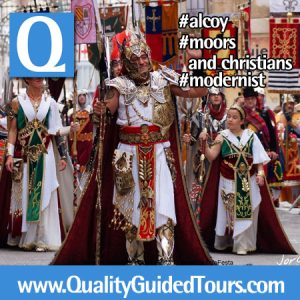 – Schedule:
Tuesday to Saturday: Mornings from 10 to 14 hours. Evenings from 16 to 19 hours.
Sundays and festive days: Mornings from 11 to 14 hours. Evenings closed.
Mondays: Closed.