House of Fortune Cartagena Spain contains the remains of a Roman dwelling brought to light in 2000.
Its construction is dated from the end of the 1st century B.C. coinciding with an important urbanization process. The house occupied an area of 204 m2 and belonged to a wealthy family, since this kind of domus, one-family house, usually was the residence of the wealthy classes.
The House of Fortune Cartagena Spain offers a panoramic view of the domestic life of the Roman period through the different rooms that it is comprised of, such as the tablinum or the representation room, the cubicula or bedrooms, the triclinium where they celebrated the banquets and the atrium.
The Latin inscription "Fortuna propita" whose translation could be "Good luck," has served to give the house the name Domus of fortune. This welcoming greeting was displayed to be read by the people who came to the Domus by way of the back door.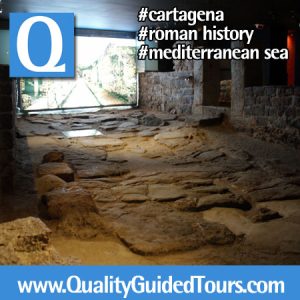 – Schedule
1 July – 15 September.
Tuesday to Sunday: 10:00 to 15:00.
16 March – 9 December
Tuesday to Sunday: 10:00 to 14:30.
10 December – 15 March
Saturdays and Sundays: 10:00 to 14:00.