The Alicante Town Hall is an imposing baroque building specifically designed for welcoming the queen Isabel II in 1858. The first Alicante Town Hall was designed in 1490 granted by Fernando "the Catholic" but it was destroyed during a the bombardment in 1691.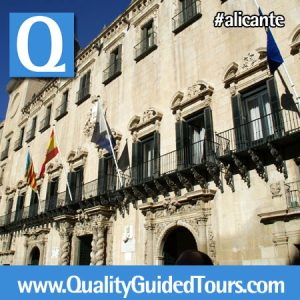 The actual building was designed by architect Lorenzo Chápuli and built on the site of the former city hall in the 18th century. We can admire its ornamental elements such as the barley-sugar columns on the facade or its two towers. Inside there are several remarkable rooms such as the Salón Azul styled from the period of Spain's Queen Isabel, the Salón de Plenos meeting hall and a chapel in which mass is held.
La "Cota Cero"- Zero point- in Alicante Town Hall
Probaly the most special point in Alicante Town Hall is the "Cota Cero" the reference point from which the altitude of Spain's various cities is measured in metres above sea level located at the foot of the main staircase of the City Hall Building (Ayuntamiento).
Monday to friday 9.00 am to 2.00 pm
Saturday, sunday and festivity days: closed