Eat and Try some dates at Elche Palm tree Groove the typical dates from Elche in the original environment where the palm trees grow.
The Palmeral of Elche was laid out at the end of the 10th Century A.D. at the same time that the Muslim city of Elche was built. It is a quite magnificent example of the agricultural ingenuity of the Muslim farmers:
The date palms are planted alongside the boundaries of the irrigated plots of land, helping maximise the retention of water, and allowing a very varied horticulture in an otherwise arid climate. The same techniques are used around oasis in the North African deserts.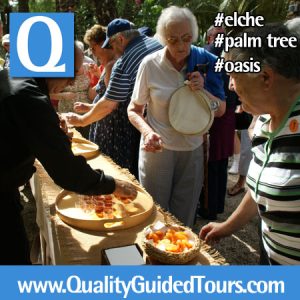 The palm tree is one of man's most practical plants providing: dates, coconuts, flour, oil, honey or alcohol and wine, the domestic use of the plant tissue of the palm tree…
The star product among gastronomic purchases in Elche is, undoubtedly, dates freshly picked from the palm grove. The harvest season runs from October to January and, during this time, it is possible to buy fresh dates in certain shops that are connected, in the most part, to the families of the palm farmers themselves, who lovingly tend to the cultivation and care of the date palms.