Description
Enjoy this Elche 5 hours private guided tour with private transport from Alicante for your own, couple, family or private group
Elche 5 hours private guided tour is the best idea to discover palm trees and Elche city landscape.
Elche is a city located in the comarca of Baix Vinalopó, with 228,300 inhabitants. Explore the World Heritage Palm Groove and enjoy the stunning display of Mediterranean and tropical species.
After that we will continue this Elche 5 hours private guided tour visiting the Basilica of Saint Mary where the World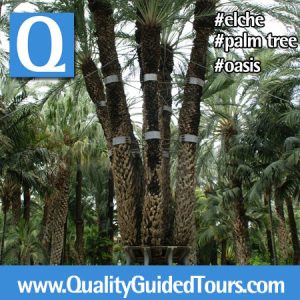 Heritage lyrical drama, or Mystery Play, is staged annually in August. The Mystery of Elche is a historical treasure of the city and one of the jewels of Valencia's cultural heritage. The event was listed as a National Monument in 1931, and included by UNESCO in 2001 in its first Proclamation of Masterpieces of the Oral and Intangible Heritage of Humanity.
On this 5-hour guided tour you'll get up close to the palms on a visit to the Huerto del Cura the National Artistic Garden that covers a wide area and features a spectacular palm known as Sisi
Bring your camera with you and live amazing experiences in this Elche 5 hours private guided tour. Enjoy this green city with professionals and discover each corner of the city. Get amazed by the two World Heritage sites of Mankind declared by the UNESCO that you can find in Elche, taste the gastronomy and feel like real locals.
We offer an authentic Mediterranean experience accompanied by people born in this area and professionals!!
What´s included in this Elche 5 hours private guided tour:
– Basilica of Saint Mary
– Panoramic drive in Alicante
– 5h private tour guide Alicante / Driver
– Transport included car or mini-van up to 6 people. We offer the chance to book a car/van or mini-coach if you are a bigger group, ask for your special quotation.
Not included in this Elche 5 hours private guided tour:

– Entrance ticket to Huerto del Cura (8€ per person)
** The meeting point for this Elche 5 hours private guided tour: up to your convenience**
CHECK THE PLACES YOU WILL VISIT IN THIS ELCHE 5 HOURS PRIVATE GUIDED TOUR:
Ana & Jordi Linares Private Tour Guides Alicante
 Download complete information about our private guided tours
Download a catalogue (.pdf) with complete information about each destination (all our tours, meeting point, cancellation policy, recommendations, private transport, etc)
Alicante | Benidorm | Cartagena | Valencia
** Private tours developed by Qualified Local Guides. Book only professional tour guides. If you are travelling with a private group, family or friends, you can book a private guided tour + transport for your party**