Description
Enjoy this Valencia historical walking tour 4h with your own, couple, family or private group from 1 to 35 people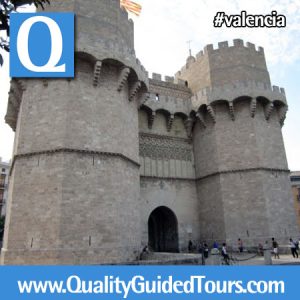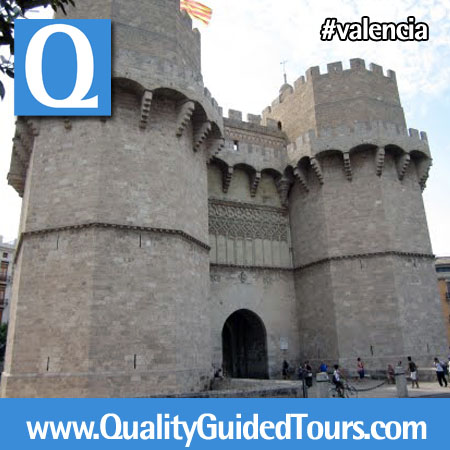 Valencia historical walking tour 4h.  Soak the real atmosphere of this historical and charming city of Valencia in this Valencia historical walking tour 4h with your local and licensed private tour guide in Valencia.
Explore the capital of the Valencian Community and discover its great mixture of past and present histories. Start by enjoying the monumental Serrano ́s Towers and continue exploring the old Carmen neighborhood. There we will discover some interesting palaces, narrow streets and a beautiful atmosphere for bohemians and art-crafts souvenirs.
Continue with the Basilica for the patroness of Valencia: the Holy Lady of Foresaken people and of course the Cathedral, with its different gatesand also an inside visit, where we will discover the Holy Grial at a very quiet and special chapel.
Admire its mix of Gothic, Romanesque, Baroque, and Neoclassical elements before walking to Plaza Redonda, in our way to the Silk Exchange Building.
History, tradition and Mediterranean culture!!
We will continue visiting the Silk Exchange Building declared World Heritage Site by the UNESCO. It´s considered a jewel inside the Mediterranean gothic style. Explore this civil building and all curiosities about the history of the Silk commerce in Valencia and how it got inside Valencia and why nowadays it has almost dissapeared.
The last experience will be the Central Market of Valencia a magnificent local market where to buy, taste and admire fresh and local products from the Valencian horchard. It has recently celebrated the 100 anniversary of his creation during the 20th century in Modernist style!
It will be a real Valencian experience, over there we will have some time to taste the typical "Valencian horchata" made with tiger-nuts and very refreshing and a unusual taste.
Explore and get tips from locals!
What's included in our Valencia historical walking tour 4h:
• 4h Private tour guide in Valencia
• Central market
• Basilica of the Holy Lay of Foresaken People
Not included Valencia historical walking tour 4h:
• Ticket entrances for the Silk Exchange building + Cathedral: 10€ per person payable to the guide at the begining of the tour.
**Check our Meeting point for the Valencia historical walking tour 4h
CHECK THE PLACES YOU WILL VISIT IN THIS VALENCIA HISTORICAL WALKING TOUR 4H
** Private walking tours developed by Qualified Local Guides. Book only professional guides. If you are travelling with a private group, family or friends, you can book a private guided tour + transport for your party**
 Download complete information about our private guided tours
Download a catalogue (.pdf) with complete information about each destination (all our tours, meeting point, cancellation policy, recommendations, private transport, etc)
Alicante | Benidorm | Cartagena | Valencia