Roman Theatre Cartagena Spain dates from the first century A.D., and together with the theatre in Mérida, is one of the most important in Spain.
An imposing building with a capacity for 6000 people whose particular characteristics certify the important role played by Cartagena in the history of the Ancient Hispania.
The discovery and excavation of the Roman Theatre Cartagena Spain is one of the most surprising archaeological discoveries of the city.
This site has remained hidden for centuries because of it's location in an area of the city uninterruptedly inhabited. For this reason its original features remained hidden with the passage of time. An example of this inhabitation was the partial superimposition of the Old Cathedral on the top part of the Roman Theatre, one of the major singularities of this archaeological collection.
The museum exhibits items discovered in excavations in the area of the Roman Theatre in Cartagena, built between the 5th and 1st centuries BC.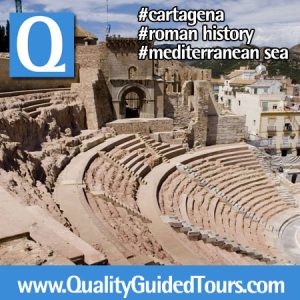 – Schedule:
May 01 to Sep 30
Tuesday to Saturday From 10:00 to 20:00 Sunday 10:00 to 14:00
Oct 01 to May 01
From Tuesday to Saturday
From 10:00 to 18:00 Sunday 10:00 to 14:00
Easter week: Tuesday-Saturday: 10am-8pm. Sundays: 10am-2pm.