Come on discover the Hogueras Museum Alicante. Alicante celebrates the coming of summer with the bonfires of San Juan. In a spectacular display of music, colour and fireworks, thousands of people throng the streets to experience this fiesta which pays tribute to fire.
A Bonfire is not only an artistic creation, it is a critique of the societal, political and economical situation of the world in general and the city of Alicante especially. Critiques are made across the "Ninot" or figure. The Ninot usually represents a famous person, often an amusing parody of a politician.
What can we find in the Hogueras Museum Alicante?
In this museum you can see collections of ninots pardoned (the figures are saved from fire). The Hogueras Museum Alicante shows in five halls the evolution of this festivity.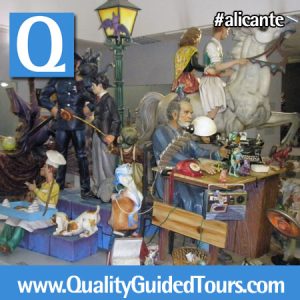 – Schedule
(from June 15th to September 15th)
Mornings: 10:00 to 14:00 h.
Evenings: 18:00 to 21:00 h.
(from September the 16 to June the 14)
Mornings: 10:00 to 14:00 h.
Evenings: 17:00 to 20:00 h.
– Free admission