Malvarrosa Beach a unique urban beach where to find the peace and relax!!
The name of this beach is due to a plant of the family of geraniums of intense and penetrating citrus aroma.
With a length of 1,000 meters and an average width of 135 meters, it is a wide and open beach, with fine sand, flanked by the promenade and equipped with numerous services.
The beach, which in ancient times was used to land fishing and trade exchange between the different towns near the capital, became a place of rest of the bourgeoisie of Valencia. Among its illustrious vacationers were Sorolla and Blasco Ibáñez.
In the Malvarrosa Beach we can practise different activities, taste a good Valencian Paella in a restauran or relax at the "Casa-Museo Vicente Blasco Ibáñez".
The house where Vicente Blasco Ibáñez spent the summer, is preserved as a museum, we can see inside it, his objects and significant memories in the life of the writer. It is at the end of the promenade of Malvarrosa beach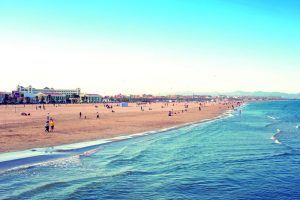 It´s a wonderful beach for spring or summer time, also is recommended to have a walk in the early morning to enjoy the breeze and why not also to join some of the best "chiringuitos" for s special sunset 😉