The America's Cup Area Valencia, is a trophy awarded to the winner of the America's Cup match races between two sailing yachts.
The America's Cup is the oldest international sporting trophy. In 2007 Valencia held this important event in its harbour. The result of restoring this area was to create the Royal Marina Juan Carlos I. A charming area close to the seaside, where we have a great offer about restaurants, pubs, entertainment activities and the best to observe the Valencian Sunset.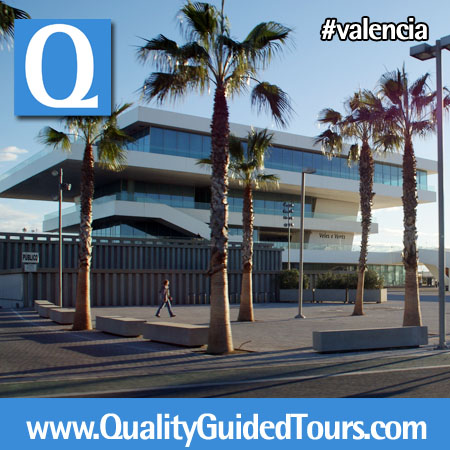 One of the most emblematic building is "The Veles e Vents" building is named after the poem of the same name by the fifteenth-century Valencian poet Ausiàs March, the most prominent figure of the Golden Age of Valencia. The poem tells the story of the author's journey from Italy to Valencia in search of his beloved. During the trip, he encounters great dangers and invokes the power of the wind to help him reach dry land.
In the same area you will find the America´s cup House. The cubic building (Casa de la Copa America) holds four screens which will tell you the whole story from the Cup's origins in 1851 to present day. Outside, in one of the old port pavilions adjacent to the building, you can view models of all of the winners through history and see how the design of the yachts (so crucial in this competition) has changed over time.
The America´s Cup area Valencia it´s a new and modern area perfect for having a relaxing drink or just walk around the Marina.
In some of our tours it´s included to visit this area like in our: Shore excursion Valencia or private tour guide Valencia.