Valencia Flamenco Performance
With more than a decade of professional experience in the world of flamenco and authentic restoration, the owners in Flamenco Performance in Valencia are hoping to reach a wide variety of the public with the magic and ancient charm of flamenco, the most exported cultural icon of recent times.
Down through the ages and with much patience flamenco has managed to forge itself into one of the most cultivated musical roots of any known. History has been entrusted with placing this art form on the pedestal it so justly deserves. We as part of this new project want to offer genuine performances of this ancestral part of our culture that we call flamenco.
Flamenco Performance in Valencia opens its doors in Valencia placing it in the forefront of Tablao Flamenco in the city, with the intention of presenting high quality artists and offering high quality gastronomy. This will bring together two of the most valued treasures of this country: Spanish cuisine and flamenco.
Flamenco Performance in Valencia
Presents an exceedingly dramatic flamenco show of a very high standard with impressive interpretation. Our responsibility it´s to show our clients the true identity of flamenco and afford the respect that this art form deserves.
We plan a unique programme of shows that will remain, forever, in the memories of those who come to see us.
We have checked several places in Valencia and many of them offers a great variety of styles in different parts of Valencia.
– Café del Duende: They consider the flamenco and art born in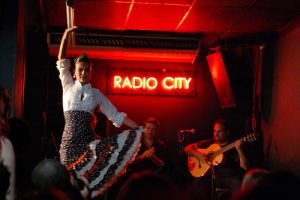 Andalucia, with Moorish, Castilian and Jewish feelings and music. Located close to the botanical garden of Valencia.
– La Buleria: They offer genuin performances, with high quality high quality artists and offering high quality gastronomy. There you can have dinner at the same time you enjoy a Flamenco perfomance Valencia.
– El Toro y la Luna: From Wednesday to Saturday night you can enjoy flamenco performances in Valencia in this place. Each month, they bring special groups from Sevilla to dance and show their performances in this tablao flamenco Valencia. They have capacity for groups, ask us to arrange you Tablao Flamenco Valencia night!
Our programme will bring together the styles that most represent flamenco. From the first primitive darkness of "la toná" and "el martinete" to the majestic dance of "soleá", from the genres of festive "rumbas" and "bulerías" to the gallant beauty of "las sevillanas"; a real journey through the world of flamenco performed by a collection of great artists.
They key point of the Flamenco dance is the happyness. You have to feel good, feel happy to start dancing flamenco with energy. It is becoming more and more popular to learn flamenco on-line, with videos and personalized tutorials.
Are you going to miss it? Learn or attend to a flamenco performance in Valencia, not only in Andalucia they dance this Spanish typical and traditional dance. Become a flamenco dancer and get the best of us!