Heritage - Nature - Gastronomy - History - Art
European Federation of Tourist Guides Associations
Qualified Guides
We have more than 10 years of experience in this field
Showing our land for more than 10.000 tourists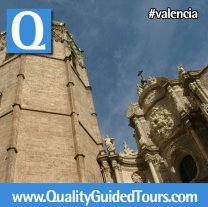 We offer the best private guided tours in Valencia with more than 10 years of experience in the tourism sector, we will show you the best of each city, the history and traditions of each corner. We where bron here in this Mediterranean lands and now we work as private tour guides in Valencia or other cities like Alicante, Cartagena, Benidorm or Castellon: the Valencian Community and also Murcia Region.
Don´t worry if you are staying in Valencia just for a day, with our private guided tours Valencia, you decide what you prefer, we will have everything ready for your private guided tours Valencia and we will get your enough information about our must see, must do, restaurants, tapas, tickets, etc. Feel like a local booking our private tour guides in Valencia.
Some of these private guided tours Valencia are specialized, like Famous Lladró factory, Sagunto Roman City Tour, the Albufera Natural Park or the excursion to Gandia talking about the most popular valencian family "the Borgia's". Otherwise we offer the possibility of booking scheduled guided tours in Valencia just for special dates, for sure on Fallas Festivals declarated World Heritage by UNESCO since 2016. And what about our Vespa Tours in Valencia on Fridays afternoon?. You will rent and ride a Vespa accompanied by a guide to visit the city of Valencia with different stops.
If your are a wine lover the best option is our private guided tour Valencia to Requena cellar
Other private guided tour in Valencia could be a wine and history tour in Requena. The perfect combination of your live: culture + history + wine. You will discover more than 2.000 years of history while you taste our local grape variety: bobal with its incredible caracter and  different flavors like fruits with a special sense 100% mediterranean. We are also wine lovers 😉 just trust in our private tour guides Valencia Ana and Jordi Linares.
For nature lovers: our private guided tours Valencia to the Albufera Natural Park
On the other hand, if you are a nature lover, we offer a private guided tour Valencia to the Albufera Natural Park, one of the best preserved wetland area in Spain. We will start with a sightseeing tour by private transport discovering the big lake where we harvest the rice and finally we can start a shor navigation in a boat through the lake. Recommended for families, nature lovers, bird watching or adventure lovers.
Private Guided Tours in Valencia
 Ana & Jordi Linares Private Tour Guides Valencia:
Download complete information about our private guided tours
Download a catalogue (.pdf) with complete information about each destination (all our tours, meeting point, cancellation policy, recommendations, private transport, etc)
Tripadvisor Traveller Rating
Tripadvisor Ranking
#2 of 35 Tours in Cartagena
Recent Traveller Review:

"Fun and highly informative day in Cartagena!"
Download a catalog (.pdf) with complete information about each destination (tours, meeting point, cancellation policy, recommendations, etc):