Description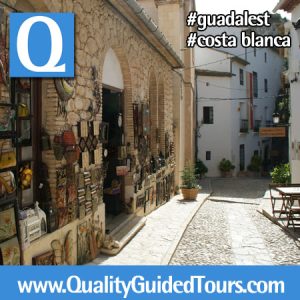 In this Guadalest 6 hours private shore excursions guided tour, before you arrive to Guadalest, we offer the chance  to try some "mistela" and local products. Guadalest, on top of a five-hundred-metre-high rock, overlooks the reservoir that supplies water to the region of Marina Baixa. This is a old slide of mediterranean culture surrounded by rivers, valleys, reservoir, paths, roads with incredible views. Our private tour guide Alicante will show you the best balcony to enjoy panoramic views through the coastline: Altea and Benidorm.
Admire this small village of Arab origin, declared a Historic-Artistic Site. It is a good idea to go up to the castle of San José, a Muslim fortress from the 11th century, which can be accessed through a natural tunnel on the rock. The castle is situated in the high part of the town. It was first a Muslim settlement, then it came to form part of the Crown of Aragon. This fortress has the unusual feature of housing the whole town – all of it formed part of the castle, surrounded by mountains.
Once outside of the Castle we will visit the old "prison" of Guadalest located in the Town Hall, and we will find the main square with the typical street full of souvenirs stores and handicrafts shops. Take your time to admire the ceramic handicrafts specially designed in this area.
Guadalest has always been a paradise, first of all for muslims, after that during the medieval ages and know in the XXIth century for all the tourist arriving to the Mediterranean coastline looking for a relaxing enviroment.
Discover this piece of land where to breath a bit of peace, a bit of history!
What´s Included Guadalest 6 hours private shore excursions guided tour:
6h Private Tour Guide Alicante and Guadalest / Driver
Transport to Guadalest by car or mini-van up to 6 people. We offer the chance to book a car/van or mini-coach if you are a bigger group, ask for your special quotation.
Panoramic drive in Alicante
Not included Guadalest 6 hours private shore excursions guided tour:
Ticket entrance to the Castle (8€ per person)
** Check the meeting point for this Guadalest 6 hours private shore excursions guided tour:
CHECK THE PLACES YOU WILL VISIT IN THIS GUADALEST 6 HOURS PRIVATE SHORE EXCURSIONS GUIDED TOUR:
Ana & Jordi Linares Private Tour Guides Alicante
 Donwload complete information about our private guided tours
Download a catalog (.pdf) with complete information about each destination (all our tours, meeting point, cancellation policy, recommendations, private transport, etc)
Alicante | Benidorm | Cartagena | Valencia
** Private tours developed by Qualified Local Guides. Book only professional guides. If you are travelling with a private group, family or friends, you can book a private guided tour + transport for your party **