Saint Barbara Castle Alicante is set on the Monte Benacantil hill, a location of great strategic value.
Of Arab origin, the castle bears the marks of all the different peoples that the city has sheltered, although a good part of the present building only dates back to the 16th century.
Saint Barbara Castle Alicante is so-called as it was captured from the Moors by prince Alfonso of Castile on the feast day of Santa Bárbara
Santa Barbara Castle Alicante has everything you would expect, cannons, a palace, dungeons, a moat, the ruins of a small church and of course that famous lookout tower. From all around the walls you get the most fantastic views: a definite photo opportunity.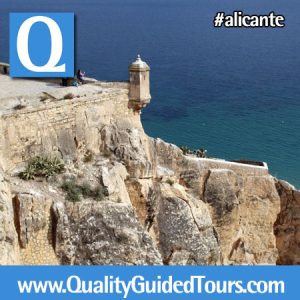 Take a look at the rocky outcrop just below the lookout point: depending on the angle that you view it, you will be able to see the outline of a Moor's face!
Do you what to know more about the Saint Barbara Castle Alicante ?
Check our Alicante private guided tours or Alicante cruise excursions, all of them with private local and expert guide. We are locals and we know each corner of this Mediterranean charming city.
– Schedule
From Apr 01 to Sep 30
From Monday to Sunday
From 10:00 to 22:00
From Oct 01 to Mar 31
From Monday to Sunday
From 10:00 to 20:00