Valencia bikes
Valencia is a city with 1 million inhabitants but with different facilities such as an airport and a great network of public transports like: bus or metro.
This time we will take a bike for discovering Valencia by bike. Valencia has a public system  called "ValenBisi" where through different points in the city you can rent a bike in Valencia per hours and using all the old Turia riverbed discover the City of Arts and Sciences. But if you are looking for something more specific we have the perfect tour: discover Valencia by bike. 
In our 2h bike tour we will enjoy the city and be environmentally friendly. We will cycle close to the Central Market, the Cathedral and the Basilica after the city center we will go to the old Turia riverbed: a green and open area where you will see people practicing different sports, jogging, walking…
Valencia bikes
In our tour Valencia by bike we will cycle close to the old Palace of Music for breathing, we will continue having a look to the Gulliver: a huge sculpture with different slides for children. We will finish the tour in the City of Arts and Sciences, beginning in the Palace of Arts Reina Sofia and finisihing in the Agora.
You can decide to keep cycling one hour more and get to the "Malvarrosa" beach and enjoy the port of Valencia and all the facilities for the America´s Cup. We can arrange a pic-nic for your lunch or early dinner and enjoy it in the beach or in the old Turia riverbed and after that go back to the city center by bike.
Valencia by bike will be the perfect activity you can do in spring, summer or autumm for enjoying the Mediterranean weather. All of this accompanied by an expert, local and licensed tour guide.
Sport+culture=Valencia by bike!!
Posible routes to enjoy Valencia bikes!
– From Serranos Tower to the City of Arts and Science: in two hours you will experiece the freedom to ride in the old Turia River, nowadays the Turia riverbed. In you way to the City of Arts and Science you will discover the old Palace of Music, special fountains, the Gulliver and finally the magnificience af the different buildings of the City of Arts and Science.
– From Serranos Tower to Bioparc: following the natural way of the Turia river but now without water, we have to leave the Serranos Tower and turn to the left, and start riding without problem!! Feel free!!. You will enjoy different green areas, gardens, football and basketball petches… Finally you will realise that you can´t keep riding because there is no way. There you will fins many signs for discovering the Bioparc, the new zoo of Valencia.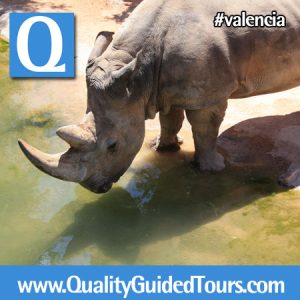 – From the City of Arts and Science to the Malvarrosa beach: