This Baroque Basilica of the Holy Lady of Foresaken people dedicated to the patroness of Valencia, was the most important religious building constructed in Valencia in the 17th century.
Basilica of the Holy Lady of Foresaken people was built between 1652 and 1667, and is the only church in the old town that was not built on the site of a former parish church or convent – it was an entirely new work. Another unusual thing about it is that the dome is off-centre, towards the Cathedral.
Inside the Basilica of the Holy Lady of Foresaken people there is a Gothic style statue of The Virgin with two children at her feet. Also remarkable is its dressing room, an element characteristic of the baroque: it is a space dedicated to the adoration of the image of the Virgin. It was one of the first dressing rooms that are known in Spain, and is accessed through a staircase.
Our Lady of the Forsaken is the patroness of Valencia and one of the seven patrons of the Autonomous communities of Spain.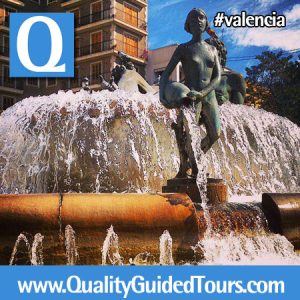 The Basilica was declared National Artistic Historical Monument on June 5, 1981.
The Basilica is located in a very nice and charm square, the most important religious square in Valencia, with load of light, sun and wonderful terraces.
Schedule:
From Monday to Sunday: 8am to 14pm and from 16:30h to 21h
You can visit the Basilica in our Valencia 3 hours private walking tour or asking for our private tour guide Valencia.