The fifth best excursions from Benidorm
Maybe this is your first time in the Costa Blanca or maybe you have been here before… but you have missed some of the breathtaking villages, views and traditions this area has to offer. One of the best ways to do so is through a private tour guide that knows all the must sees of the area and all the little hidden corners of the area.
In this post we will be sharing some of the must sees and does of the area: we will talk about the fifth best excursions from Benidorm, so you can get a feel of what the area is like before you get here and what you can see with our private tour guides once you are here in the stunning Mediterranean coast.
Excursion to Guadalest
This is a must see! From Benidorm is very easy to visit Guadalest and if you book a private tour guide, will be better. Guadalest is an Arab Origin village located in the Province of Alicante, in the Marina Baixa region, declared a Historic – Artistic Site, it has about 217 inhabitants.
It is part of a Club (Asociación de los Pueblos Más Bonitos de España) with less than 500 villages from all around the world and it has been registered  as one of the most beautiful villages in Spain and the world. Guadalest is the first and best option if you are looking for an excursions from Benidorm.
Guadalest village, has many narrow streets full of little souvenir and handcraft shops, as well as 8 museums you can visit, such as The Municipal Museum Casa Orduña, Inmaculada and dollhouses, Historic Vehicle Collection Museum Guadalest Valley, Microminiatures museum, Shakers and Pepper Museum, Ethnological museum, Medieval Historical Museum, Bicycle Museum Collection all of which you can visit on your way up to San José's Castle passing through the original rock tunnel that is the only access to the top.
On a curious note, every so often they have to resurface the main streets, specially the access to the tunnel, due to the amount of visitors this little village receives every year.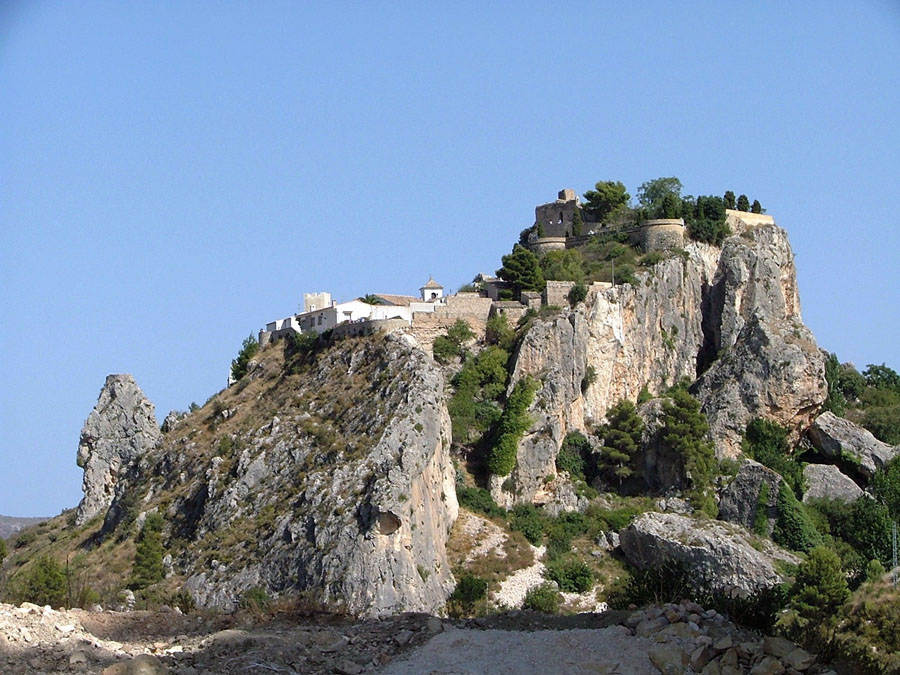 What about an excursion to Altea and Calpe?
Another nice excursion from Benidorm is Altea, also know as the "The dome of the Mediterranean", is a fisherman's village with about 21.813 inhabitants, it's another must see in this area. It is know for it's narrow streets full of white houses most of which have been converted into shops full of hand made products and clothes.
The Church of "Nuestra Señora del Consuelo" is a the very top in the square, it's special for the village as it was build with the help and money of about 5700 villagers over 100 years ago, over the ruins of the old Church that was closed down in 1893 due to deterioration. The Church is know for it's two unmistakable blue and white domes.
There is an amazing view point where you can see Benidorm to your right and Calpe to your left. This charming village is just full of little squares, restaurants, shops, views… A place you wouldn't want to miss on your visit.
Calpe, is a Mediterranean costal village with about 20804 inhabitants. El Peñon de Ifach (Rock of Ifach), is 332 meters above sea level and it's a symbol of the Costa Blanca area. It was named a Natural Park in 1987. At the end of the XIX century the Rock of Ifach was privately owned  changed hands over the years, until 1987 when it was sold to the Generalitat Valenciana.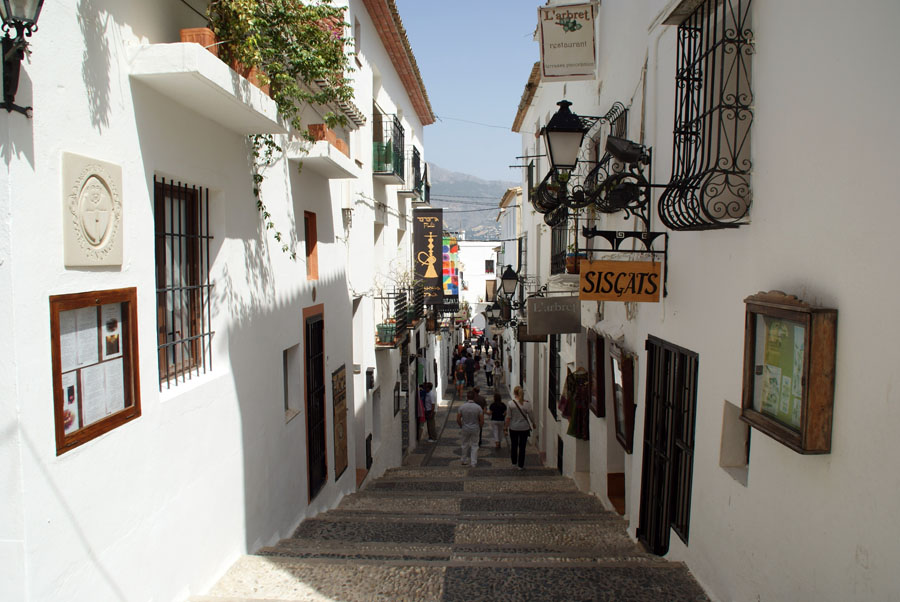 Excursion to Gandia "The Borgia Family"
This 14th century, Ducal Palace in Gandia, in one of the most important examples of the Valencian architecture heritage, declared of cultural interest in 1964. This was their official residency and was built at the highest part of town. If you love history, our third recommended excursion from Benidorm is Gandia.  The Borgian family had a strong influence in all the changes of recent Valencian history.
The Borgians produced two popes: Alfons de Borja, who ruled as Pope Calixtus III during 1455-1458 and Rodrigo Lanzol Borgia, as Pope Alexander VI, 1492- 1503.  Specially during the reign of Alexander, they were suspected of different crimes, such as adultery, incest, theft and murder and because of their eager nature for power they found many enemies over the years. Very close to the Palace you will find the historical city centre and the "Colegiata of St. Mary", a Catholic Church named by Pope Alexander VI.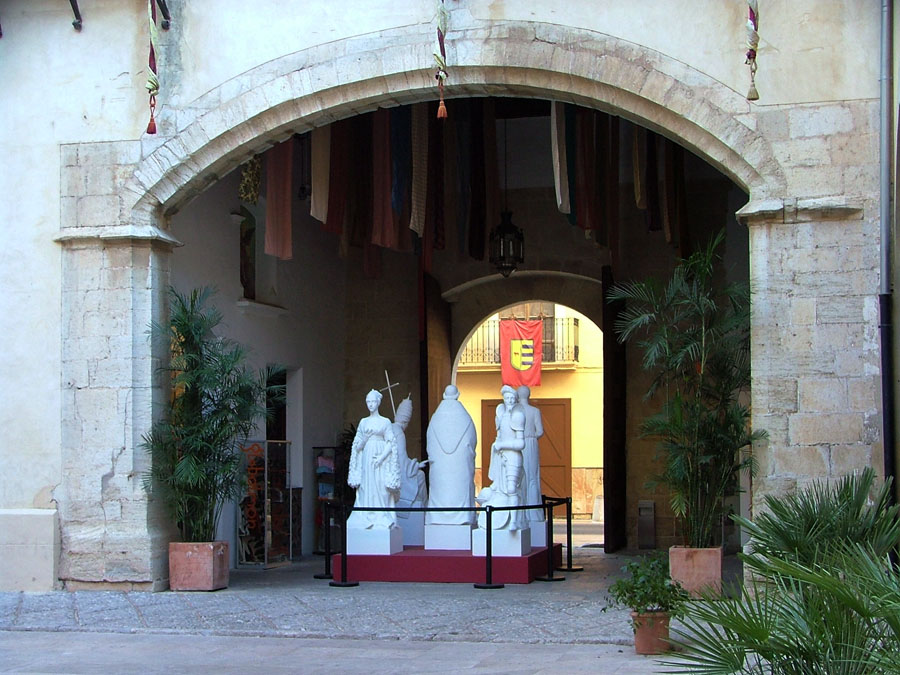 Discover Alicante in a half day excursion
Is a Spanish province on the Mediterranean coast with about 329.988 inhabitants, about 30 minutes drive away from Benidorm. One of it's main characteristic images is the Saint Barbara Castle in Alicante, we can find it sitting on Benacantil Mountain at 169 meters above sea level. This spectacular castle is an iconic symbol of the city and is visited by many tourist every year. Enjoy this atmosphere with your private tour guide in Alicante.
Another emblematic worth visiting with a private tour guide is St. Nicholas Co-Cathedral. It was build on top of a mosque, between 1616 and 1662 and was originally of gothic style architecture. Although on the exterior it looks quite bare you will be surprised by it's beautiful and elegant interior.
The Alicante Town Hall has an amazing Barroque facade dating back to 18th century. An interesting fact about this building is that at the foot of the staircase of the main entrance you can find the "Cota Cero" (0 meters above sea level) it's the reference point for all the altitudes in Spain.
Walking along Alicante's gorgeous esplanade made out of 6.5 million pieces of ceramic tiles you will come across the The House of Carbonell built between 1920-1925. The original owner, Enrique Carbonell Antolí, wanted the most extravagant building of it's time as you can appreciate by it's facade.
Alicante has a "Hogueras" museum where you can find out about their main festivity. They are celebrated between the 20th and the 24th of June and are of International Interest. This festivity consists of building amazing human like monuments during the year made of wood and cardboard, sometimes representing and mocking important people, such as politicians, actors, etc. On the night of the 24th of June coinciding with the summer solstice these large monuments are burnt to the ground.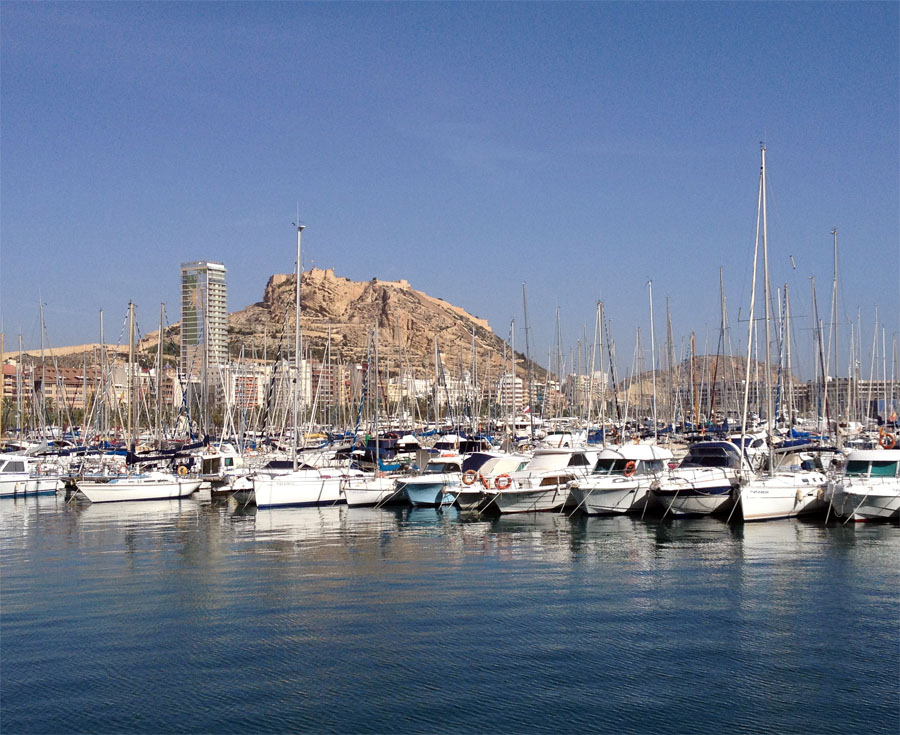 Excursion from Benidorm to Alcoy
Hidden in the valleys of Alicante mountains you will find the amazing and historic city of Alcoy, with 59.106 inhabitants and famous for it's traditional Moors and Christians festivities,The Kings Christmas Parade and it's many bridges.
A must see in Alcoy is the Moors and Christians museum where you can find out about their festivities celebrated in April and date back to at least 1511 . Here we can appreciate ornate costumes worn over the years in the different "Filaes".
One of the many places worth visiting is St. George's church, a Neo-Romanesque building. This privately owned building is named after the patron Saint of the city. This is one of the few churches that managed to survive the ransack and fires of the Spanish civil war.
The Llotja of Saint George, designed and built by the famous architect Santiago Calatrava and simulates the skeleton of a dragon. It was created between 1992 and 1995 but wasn't opened to the public until 1997.
San Nicolas is one of the main streets in Alcoy where we can appreciate modernist buildings as well as the famous "peacock house" one of the most representative buildings in Alcoy, after the economic boom at the beginning of the 20th century.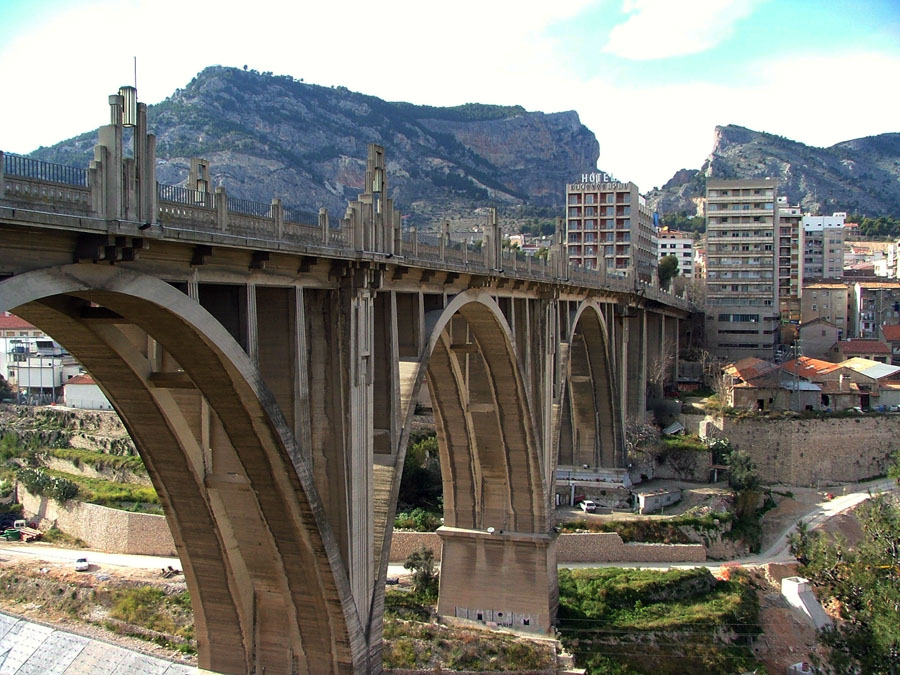 Private walking tour in Benidorm
Benidorm, is a town in the Province of Alicante, eastern Spain, on the Mediterranean coast. It has a population of about 66.831 inhabitants all year round which increases in the summer months to about 400.000. Until the 1960's it was a small fishing village that over the years has just kept growing and growing thanks to it's micro-climate. Nowadays it is famous for it's skyscrapers, it's beaches and coves with crystal clear waters and of course it's night life offering many shows all year round.
It is divided in 5 parts: You have Levante, which is the lively side of town, know for it's night life, where you can enjoy great beaches, lovely beach front restaurants and pubs;  Poniente where they have recently made a lovely promenade to walk along side the beach, perfect to enjoy a more relaxing and laid back atmosphere; The Old Town, where you can enjoy some Tapas from different parts of Spain, is amazing at it's always busy; at the top of all the little narrow streets, past St Jaimes Church, on top of a giant rock that divides both beaches (Levante and Poniente) there is a viewing point; La Cala is situated at the west side of Poniente; El Rincon the Loix is situated at the east side of Levante.
And this is all for this post. These are all villages, towns and cities of the area you can't miss. Consider our recommendations if you are looking for the fifth best excursions from Benidorm: we have carefully hand picked each one of them with the most interesting places to visit, but of course if you have any questions or there are any other places or areas you think are worth visiting or you have any doubts, please leave a comment below or get in contact with us. We will be please to get some feedback 😉