Do you know that the Spanish explanade is composed by 6 milion broken ceramic tiles?Enjoy a different and customized tour and book a private tour guide in Alicante.
Surf in the history, traditions, culture and gastronomy of a wonderful city like Alicante and always trust Licensed tour guides. Iberians, romans, arabs and finally christians have enjoyed for centuries this lovely city and know it´s your turn!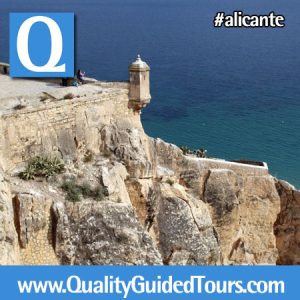 – Alicante 3h private tour guide in Alicante, walking tour: This tours is based in a walking tour where we will enjoy the main touristic sites ofAlicante but with the experience of a private tour guide in Alicante. We will take the elevator to Castillo de Santa Barbara, then we will go down walking for visiting the Santa Cruz neighborhood and finally we will visit the baroque Alicante´s Town Hall and the Spanish explanade.
– Alicante 4h private tour guide in Alicante with private transport: This tour is perfect for visiting Alicante in a limited time. In this 4h private guided tour with transport we will manage to visit Alicante and some areas of the surrounding. Get amazed by the Santa Faz Monestry where we have one of the most important relics of the Christian religion: the holy veil.
– Novelda and winery visit, 4h private tour guide in Alicante,  If you are looking for experiences, this is your tour! We will visit a special Sanctuary in Noveldad that has a stunning organ made with marble. We will visit a familiar winery where to explore and taste this famous Spanish drink with special  Alicante Denomination of Origin.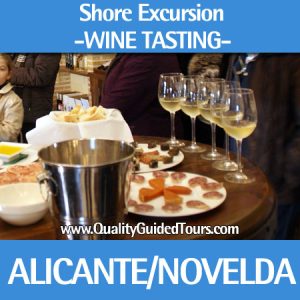 – Guadalest valley, 4h private tour guide in Alicante: Wonderful and pleasant private guided tour to Guadalest. In this tour we include the private transport you need for your party and a licensed and profesional private tour guide.
Admire this small village of Arab origin, declared a Historic-Artistic Site.
– Elche, 4h private tour guide in Alicante: You will explore this paradise of palm trees, a completely oasis in the Mediterranean. We will have time to discover and marvel at the  historical treasure of the city "The Mysteri Play of Elche", declared World Heritage of the Mankind by the UNESCO.
Feel, taste, learn and experience with private tour guide in Alicante.
We love our job and our fantastic Mediterranean lands, so we are a good chance to discover Alicante booking licensed and private tour guide in Alicante.
You won´t regret it!!