Calpe with  deeply-rooted traditions harmoniously coexist with the tourist industry, making it one of the main destinations on the Costa Blanca.
Eleven kilometres of beaches and coves, a marina and a beautiful natural environment are part of the immense appeal of the town.
The Peñón de Ifach (Rock of Ifach) is attractive from any of the views from which it can be spotted, but this natural park, one of the most emblematic in the Region of Valencia, is even more captivating when glanced upon from the quiet beach of La Fossa, with the rocky mass being reflected in the crystalline waters of the bay at the foot of the singular tourist town of Calpe, endowed with some quality tourist services and equipment.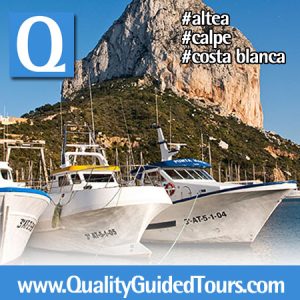 Calpe is a town rich in history and culture and its strategic position on the coast has attracted many voyagers and settlers throughout history. Remains of Iberian tribes have been found around the town. Later, the Romans founded Calpe as a prosperous colony, whose main activity was drying and salting fish.
Calpe enjoys a typical Mediterranean climate, with cool sea breezes in summer and protection by surrounding mountains against the cold North winds in winter. The area averages nearly 3,000 hours of sunshine each year and the average temperature easily exceeds 20 degrees.