Cabo de Palos is a small fisherman village located at 35km from Cartagena and with our Cartagena Spain Private Shore Excursions you will have the chance to discover it.
The cape is part of a marine reserve, the Reserva Marina de Cabo de Palos e Islas Hormigas. The sea bed has been designated an Integral Marine Reserve for its exceptional beauty and excellent state of conservation, and is considered one of the best scuba diving sites in Spain. Here you will find reefs and corral deep underwater, as well as the remains of shipwrecks and sunken boats: a real adventure for scuba fans.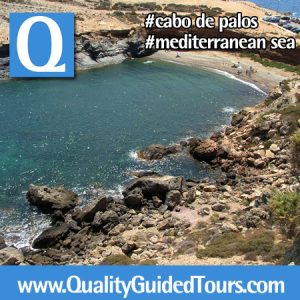 But this quiet and fisherman village is not only naturem, one of the most emblematic places it´s the lighthouse.
Leaving the small harbour of the village and following some signs, you will arrive perfectly to the lightouse and you will start enjoying the wonderful panoramic views over the Mediterranean sea.
This lightouse is one of the oldest lighthouse in Spain. Its lighthouse began operating on January 31, 1865.
Talking about its origins we have to go back to the Romans ceturies. According to Pliny the Elder and Rufus Festus Avienus, there was once a temple dedicated to Baal Hammon on the promontory of the cape, which later became associated with the cult of Saturn. So here we have the begining/origin of part of thi lighthouse, later during the reign of Philip II of Spain, a watchtower was built on the promontory as a defense measure against the Barbary Pirates.
This lighthouse wasn´t only a watchtower a battle took place also in this territory on June 19, 1815 between US naval forces and the Barbary Pirates. During the Spanish Civil War, the Battle of Cape Palos took place near the cape in 1938.
Maybe one of the most important milestones in this area was when "El Sirio" an Italian merchant steamer that sank off the Spanish coast on 4 August 1906, causing the deaths of at least 150 Italian and Spanish emigrants bound for Argentina.
According to an eyewitness, the captain of the French steamer Marie Louise, she was "taking a dangerous course" when he saw her stop, her bow lifting.
Local fishermen launched boats to aid in the rescue.
Nowadays in the lighthouse you can see a metal sign showing where it happened and in memorial for all the people who died there.