Description
Enjoy this particular paella show cooking in Valencia activity in the capital of the Valencian Community where the origins of this dish were found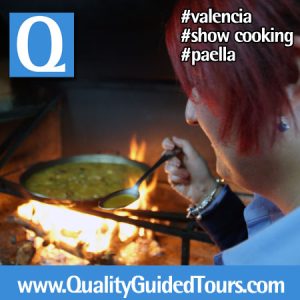 Start this paella show cooking Valencia with a panoramic view in the America´s cup area, Malvarrosa Beach with your private tour guide in Valencia in a private transport (car up to 4 people or mini-van up to 6 people). Near the beach we will stop at the City of Arts and Science. We will have time for a photo stop in the City of Arts and Science to admire this futuristic city designed by the Valencian architect Santiago Calatrava.
Continue with the panoramic views with your private transport following the Turia riverbed, it will drive you to Colon Central market, the bullring of Valencia, train station, the Town Hall of Valencia or the Valencia Silk Exchange Building declared by the UNESCO World Heritage. After this 1h panoramic tour with your private tour guide in Valencia, you will be transported into a traditional restaurant where to enjoy this special activity.
The Paella is a perfect combination between ingredients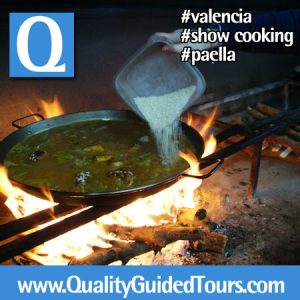 from the sea and mountain, combined to produce an excellent result . There are so many types of paella that you can enjoy a different one every time, and even if you spend a long time in Valencia, they will always be different. In this paella show cooking Valencia a local chef accompanied by an expert guide will introduce you the clues for this dish and you will become the master chef of Paella.
Oranges wood fire will be the key point of our Paella and so the local and fresh products. In many restaurants they cook the Paella on gas, but this is not the original and traditional Paella. While you are cooking, enjoy some local tapas and Spanish wine. Feel, enjoy, learn and share the authentic culinary tradition of Paella!
What´s included in our Paella show cooking Valencia:

– 4h Private tour guide in Valencia  / driver
– 1h panoramic drive in Valencia
– Paella welcome pack:  apron + wooden spoon + Paella recipe
– Paella chef + English local guide
– 4 Spanish tapas
– Lunch: Tapas + Paella + dessert  + coffe + Certificate
– Drinks: Wine tasting, beer or soft drinks
– Private transport  included up to 6 people by car (4 people) or mini-van (up to 6). If you are a bigger group ask us for a special quotation.
** Check our meeting Point for Paella show cooking Valencia: Valencia harbour, Acciona Transmediterranea Terminal or in your accommodation **
Ana & Jordi Linares Private Tour Guides in Valencia:
 Donwload complete information about our private guided tours
Download a catalog (.pdf) with complete information about each destination (all our tours, meeting point, cancellation policy, recommendations, private transport, etc)
Alicante | Benidorm | Cartagena |Valencia
** Private shore excursions developed by Qualified Local Guides. Book only professional private tour guides in Valencia. If you are travelling with a private group, family or friends, you can book a private guided tour + transport for your party**