Planning your private shore excursion to Cartagena?
Keep reading our post: how to visit Cartagena (Spain) to find more information
The first thing you have to check is your cruise ship itinerary and make sure your ship in docking in Cartagena in Spain, not Cartagena de Indias. This is a very fun situation but it´s important to know that we are talking about Cartagena (Spain) in the Mediterranean coastline. If the answer is yes, you can keep reading this how to visit Cartagena (spain).
Next step once your cruise ship itinerary is confirmed it´s to trust in professional and local experts. To have an amazing experience it´s in our hands. Let us give you some recommendations in how to visit Cartagena (Spain) and to plan the best itinerary depending on your likes.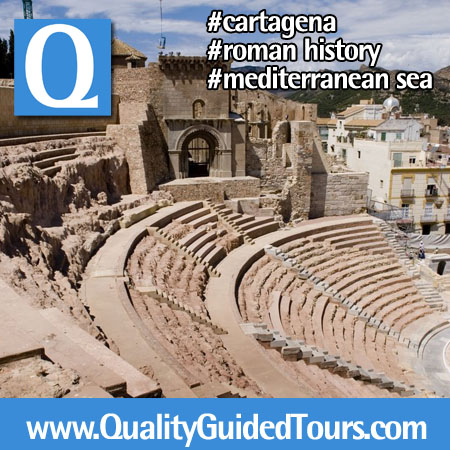 Visiting Cartagena (Spain) will involve to explore 2000 years of history, so it worths an expert private tour guide in Cartagena for the guided tour
We recommend you to start visiting with your local private tour guide in Cartagena the Interpretation Center of Punic Walls. It´s the beggining of the foundation of Cartagena (Spain) by the Carthaginians, so it´s the best way to start with how to visit Cartagena (Spain).
Keep exploring the Roman legacy in Cartagena by visiting the Roman House of Fortune. A unique experience in Cartagena, because it´s the unique Roman house opened for the visitors. This visit it´s included in our Cartagena 4h Roman walking tour.
Follow the best indications in how to visit Cartagena (Spain) and get the best of this wonderful historical city
Other experience not to be missed it´s to take the panoramic elevator to get to the flags explanade and outside area of Conception Castle. From the you will get amazed by the panoramic views and your local expert guide will explain the best anecdotes and stories about the 5 hills in Cartagena (spain).
From the "Flags" explanade you will find the amazing Roman Theatre with its 6.000 seats capacity and almost 100% original.
Have you ever been inside a Roman Theatre almost 100% original? Keep reading this how to visit Cartagena post for a unique experience!
The Roman Theatre visit it´s a "must-see" place in Cartagena (Spain). We recommend you to leave this amazing area to the end, because you will have had the chance to visit first from outside and next it´s to get inside.
The entrance to the Roman Theatre it´s located in front of the Town hall building, the access is through a pink building. You will first find the ticket office where to get the admission and then you can start enjoying the Roman Theatre Museum designed by the international architect Rafael Moneo.
The local expert private tour guide it´s the clue for a great visit in this Roman Theatre Cartagena (Spain). Normally, when you visit a Museum you have to read all the panels and signs and it can be a little bored. Led by an expert local guide you will know the idea, history and get in detail about all the important information without reading or getting bored.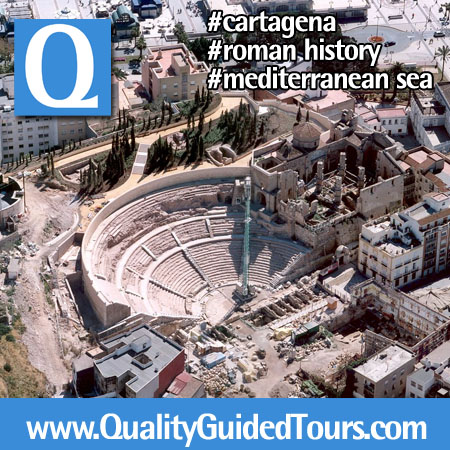 Booking a private tour guide in Cartagena for visiting the Roman Theatre it´s best way to save time and enjoy the visit. This is another important matter in how to visit Cartagena (Spain).
Finally, if you want to finish with a great idea about the Mediterranean and local cuisine, why don´t you go to try some tapas and local wine?
In this how to visit Cartagena Spain post, we recommend you to taste some local tapas like: Spanish Omelette, Pisto or Iberian Ham. They are Spanish tapas and if you want to go more deeply in the Carthaginian gastronomy we recommend you to ask for: magra, zarangollo and finally to get an asiatico coffee.
The best way in exploring the local gastronomy we recommend you, is to join our Cartagena Tapas tour. A great and tasty way to enjoy Cartagena from a different point… Just enjoy!! Our foodie local guide will take you to the best and local restaurants to enjoy some local tapas such us: Spanish Omelette, pisto or the famous asiatico coffee.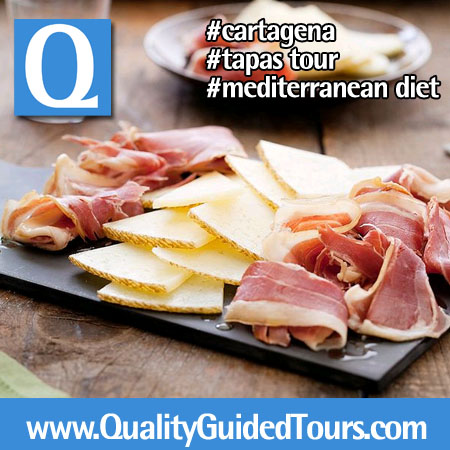 Get a different way in how to visit Cartagena (Spain) joining our Cartagena tapas tour!
One of the best things we have in Cartagena is that the downtown is located just 10min walking distance from the Cartagena´s port, so once you finish your guided tours you can decide to stay longer by your own in the city center or walk back to the cruise. Visit the oficial web of Cartagena, here.
We really hope you have enjoyed reading this how to visit Cartagena (Spain) post and to make your ideas clearer! You have to think that´s an amazing chance to explore a 2000 years old city, so save time, explore the best and trust in local and professional private tour guides.