Typical Mediterranean drink: Valencian Horchata and Spanish Sangria
Known since antiquity as a source of vitamins and nutrients, the Valencian horchata is also considered a source of health and energy the world throughout.
The real Horchata from Valencia is made with Chufa (Tiger Nut). Unfortunately, Chufa is quiet diffcult to find it abroad, so because of this the recipe for the Valencian Horchata is almost a treasure and only produced in the Valencian lands (Alicante and Valencia).
Valencian Horchata ingredients:
1/2

kg

tiger nuts

 (1 pound)

1/2

kg

sugar (may use 1/2 lb to 1 pound, desired)

1

lemon

1

cinnamon stick

1

pinch

salt

2 1/2

liters

water (warm)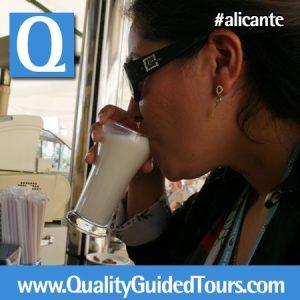 Traditional Spanish Sangria
Although there isn´t an "authentic" recipe of "traditional" Sangria, it is the most popular Spanish drink all around the world. To be honest it isn´t well accepted in Spain and Spaniards don´t usually drink it. Spanish preffer red wine with D.O or white wines in order to Spanish Sangria.
If you are celebrating a party the Spanish Sangria is the best and cheap way to get your guests easily drunk.
Spanish Sangria ingredients:
2 bottles chilled dry red wine, like Rioja
1 cup brandy
1 cup orange juice
1/4 cup superfine granulated sugar
2 oranges, cut into thin rounds
2 Meyer lemons, cut into thin rounds
3 Key limes, cut into thin rounds
2 apples, cored and cut into 1/2-inch chunks
2 cups cold club soda
In some of our Alicante shore excursions or Valencia shore excursions you can taste or try a glass of Sangria or Valencia horchata.
We are also planing different Spanish Sangria and Valencia Horchata workshops for our tours
Does it seem interesting for you? Let us know you preferences and likes!!