Rent a Vespa in Valencia?. Is a good choice?. As Vespa slogan sais "It isn´t just a scooter, it is a way of life"
Valencia is the perfect and the same definition to rent a Vespa and here we are going to give you the clues to enjoy a perfect day in the perfect city, with the perfect transport.
Before you travel to Valencia, make sure you have everyhting ready, your passport, a mapa of the city and what you want to do clear.
We recommend you to spend a day with a Vespa in this trending city. Start the day by meeting with the provideer at your hotel or in the harbour. Be ready to discover places that you would have never imagined and you would have never discovered with a normal tour.
Get your map and be rider in Valencia, unforgettable moments in the Malvarrosa beach or in the Albufera Natural Park are waiting for you.
With a Vespa you can park wherever you want, without worries. Driving into the city center won´t be a problem, just following the old Turia riverbed you will discover how easy it´s Valencia.
We offer different ways and different tours when you rent a Vespa in Valencia.
Whether you prefer a Vespa tour on your own or you prefer a 5h Vespa tour, reting a Vespa you will have fun for sure!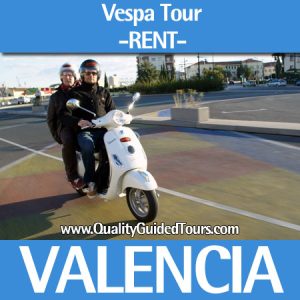 One of the options we offer is:
Book a pleasant Friday 5 hour Guided Tour, where you will visit the City of Arts and Science, the city center and the old town going through the most unique buildings and monuments of Valencia and finishing in the National Park of "La Albufera" where you will sail in a boat trip on the lake.
Or you can book a Vespa for 7h and organise the day depending on your preferences.
To sum up: Rent a Vespa in Valencia and have unforgettable moments. Easy, cheap and fashion!