Willing to cook the best Valencian paella of your life? Try with us our paella show cooking Valencia.
For cooking the best paella of your life, you have to consider it as an art and be sure you are using high quality ingredients and you are accompanied by a specialist.
This time we want to recommend you a paella show cooking Valencia, in a traditional restaurant and using orange firewood the way it was originated.
Leave at home all your knowledges about cooking paella
 Let an expert cooker explain you the details
To prepare a good paella it will take 30min for preparing everything and having it ready and around 1h and 30min to cook it, so in 2h you will be enjoying a Valencia paella.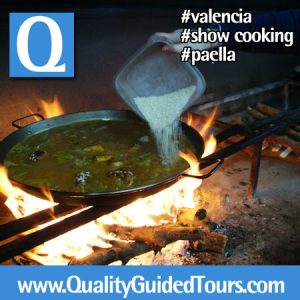 The Valencian Paella is 100% original when we use chicken and rabbit and we do not mix meat with fish… This has been popular recently but it isn´t original from the Valencian lands… It is considered just for tourist. Rabbit sometimes is quiet hard to find it, if you can´t find it you can use just the hole chicken and that´s it. Do not try to put "chorizo" or pork it will be paella but not Valencian paella.
In our paella show cooking Valencia, we will use chicken and rabbit and the best ingredients such us safron (high quality and expensive ingredient) many foreign people use "paprika" for the paella, but it will become spic and our original paella is flavour but not spicy. Do not use paprika for the Valencian paella or you will kill the original taste. Then we will use orange firewood and the best Valencian rice from the Albufera Natural Park.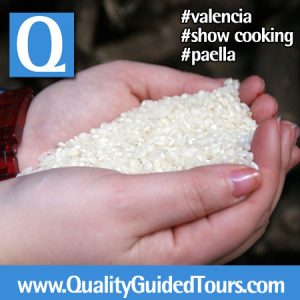 The recipe for the Valencian paella is quiet diffcult to get it because each one cook it in a different way but we attached and exemple and invite you to book our paella show cooking for a live activity, entertaining and original.
Valencia paella recipe:
1 tablespoon olive oil

1/2 (4 pound) whole chicken, cut into 6 pieces

dried rosemary to taste

(optional)