Last week we attended to the International Cruise Summit 2014 in Madrid where the most important Cruise Lines, ports and destinations discuss about different toppics realted with the cruising market.
For us it was an important meeting, where we learnt from other about this important industry.
In one of the different sessions, the toppic was "marquee destination vs boutique ports". One thing that, it was clear from the begining was that not all small ports can be "boutique ports" only a few Spanish ports can be considered "Boutique ports": Ibiza and Puerto Banús (Marbella).
A "boutique port" requires some specific characteristics not only in the terminal for the passengers, it requires global features from the destination, museums, shops and guides.
We stronggly believe and we will be working for improving our Mediterranean ports to be considered "boutique ports". One of the key points is having the shops and stores opened also on Sunday and ready for all the passengers. Many people book a shore excursion Alicante but others they just book the shuttle bus and get to the city center, and if the cruise is on Sunday and they find the stores closed they will have a bad imagine from the city.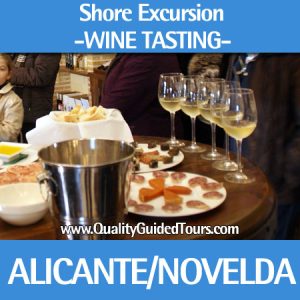 Other point for being a "boutique port" is giving the passenger high quality tours and shore excursions, treating the passenger as unique, giving them new experiences and unique activities.
We are totally convinced that our profile as a business covers this characteristics for the passenger, because we know our destination and a happy client means good reputation.
Our new challenge is to offer a Spanish shopping tour for our Valencia shore excursions where we will visit international brands such us Loewe or Lladró.
Follow us for new tours and new offers!!!