In our guided tour Guadalest we offer a mixture of traditions, history, panoramic views:  a unique chance to discover this land. El Castell de Guadalest or briefly Guadalest is a Valencian town, located in a mountainous area of the comarca of Marina Baixa in the province of Alicante.
When we talk about Guadalest we talk about one of the cities with more than 5 museums with a population of 189 inhabitants.
Not only museums are remarkable in this village, the crafts shops in its streets and the artisans working and painting the souvenirs are the activities that just Guadalest can offer the visitor.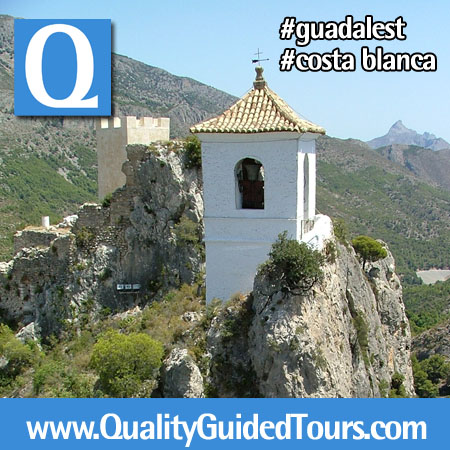 But don´t forget that the volume of tourist in this small village is huge, due to its location next to Benidorm, and a tourist lost in its streets could be a nightmare.
Because of this booking a guided tour to Guadalest won´t be a waste of time and we assure  you won´t regret it.
Our guided tour Guadalest includes a mistela (sweet wine) tasting,  guided visit to the Caslte of Saint Joseph situated in the highest part of the town and a walking tour to the whole town: city hall, prisons and its main square.
The aim for Saint Joseph Castle was for the defence of the population. It was first a Muslim settlement, then it came to form part of the Crown of Aragon and know it is a "must-see" of Guadalest.
The highlights of Guadalest are the panoramic views that it offers to the visitor: the Benidorm bay, the reservoir of Guadalest and the surrounding mountains of "Aitana" and "La Serrella" formidable mountains that reflect the Mediterranean climate in all its glory.
Guadalest is one of the best villages that shows how is the Mediterranean life and we invite you to discover it!
Don´t forget to try the "comquat" in all its variaties: honey, wine, jam… Our guide will invite you to discover the Denomination of Origin of this fruit very popular in this lands.
Mediterranean climate, Mediterranean life in all its splendour!!