Waiting for a natural and historial guided tour Cartagena? You are reading the perfect article.
If you aren´t that kind of person who prefers Roman history and archeological remains, this time we have the perfect guided tour to Cartagena for you.
The Ricote Valley in the Murcia Region is perfect if you ahve already visited Cartagena, or you are trying to avoid crowded and tourist attractions.
Discover where the last Moors in the Levant region lived until their final expulsion by Philip II in the early 17th century. A mixture of history, traditions and nature just 23km away from the capital.
8 small villages composed this special valley in which you will need a coach or a private car, depending on your group, to discover them.
Usually this guided tour to Ricote Valley starts in Fuensanta Sanctuary to continue the panoramic views until you arrive to Abaran, where we have the water wheel park where you will see the first and biggest "Noria", known to be the biggest, working water wheel of Europe that carries 25 litres of water per second and dates back to 1805.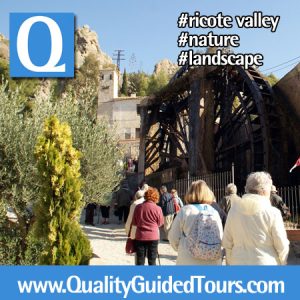 The irrigation sistem in the valley has been of paramount importance, as shown by the number of remaining waterwheels in various degrees of conservation. There are 19 in total, the biggest one in Abaran.
After this stop we will continue aour way to Archena, usins a wonderful road that reminds us the paradise: the Segura river, palm trees, small waterfalls, orange and lemon trees, caves on the mountain…
One of the most impressive characteristic is the contrast between the lush green of the land around the river and the dry, stark and rugged mountains which envelop the area. The paradise for the Moorish society in the 17th century, a relaxing place for us nowadays.
During our way to Archena we will see other villages like: Blanca, Ojós, Villanueva del Rio Segura. Small villages that survive thanks to the agriculture sector.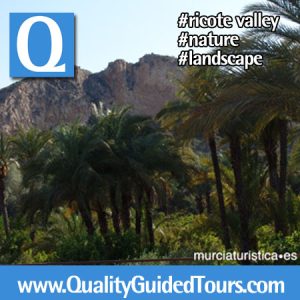 As soon as we arrive to Archena, we recommend you to stop for a refreshment in this quiet and peaceful village, the biggest in this valley.
Nowadays Archena is famous because its thermal waters and its health resort.
As you can see you will feel on the first hand why Moorish decided to hide here, and why nowadays this lands are a paradise for us.