Planing your cruise in the Mediterranean for the new season? Start choosing the best cruising excursions Valencia and finish the cruise with remarkable moments!!
After Christmas and New Year everybody starts planning new resolutions for 2015. It could be that one of your resolution is to go on a cruise so we congratulate you because we are going to show you how to get the best cruising excursions Valencia!!
When you choose the cruise take into consideration the ports or harbors the ship will stop, it could be the most important point to consider. Some ports are quiet "far away" from the city so it will be difficult to go on your own if you don´t have public or private transport, so you have to plan how to get to the city center and plan wh will offer you the best cruising excursions Valencia… Plan your cruising excursions Valencia always with professional and local guides!
Then pay attention to the time and which day you stay in each city. For exemple visiting Valencia on Monday it isn´t so nice because many museums and touristic monuments are closed, or for exemple if you are in Alicante for overnight and you plan to visit Alicante in the late afternoon all the shops will be closing by 20:30h.
These are some points you should consider before booking a cruise, and before getting a cruise excursion Valencia.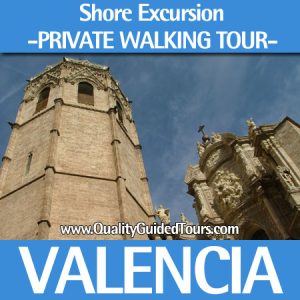 Our recommendations are clear and affordable:
Contact local, licensed and professional guides for your cruising excursions Valencia, Alicante, Cartagena or Castellon.

 Describe with detail your preferences and likes, time you are staying and how many people will join you in your cruising excursions Valencia.
And then let the professionals recommend you the best. For exemple, for a cruise excursion Valencia, we will recommend you going on a 4h private shore excursion Valencia and then booking a restaurant for a paella on the seaside or a paella show cooking, where you can cook your own paella and eat it in a traditional, local and familiar restaurant.
What about transport in our cruising excursions Valencia?Or What about cruising excursions Valencia with children?
Do not worry about it! We have luxury private a/c cars, vans or we can arrange a small coach or bus.
If you go cruising with children we can offer you a 4h private shore excursion Valencia to the City of Arts and Science. Enjoy visiting the Oceanografic, the largest aquarium in Europe, and finish the tour with an interesting movie/documentaty in 3D in the Hemisferic.
Have you already visited Valencia?
Here we are, local guides are the clue. Other interesting villages surrounding Valencia are perfect for this kind of travellers!! La Albufera Natural Park, Gandia, Sagunto or a wine tour Valencia could be the perfect choice this time.
We have other cruising excursions Valencia where to tas horchata tasting or participate in "Agua de Valencia" workshops…