Time to choose the best cruising excursions Alicante?
Keep reading this post and we wil show you the three best cruising excursions Alicante.
Visit some of the many treasures of Alicante on this half-day guided tour that takes you into the city center and up into the mountains.
Explore the old city center of Alicante on the Mediterranean coastline.
Visit Santa Barbara Castle and take in the panoramic views
See Santa Faz Monastery and the Holy Veil
Palm trees dominate the Elche city landscape. On this 4-hour guided tour, you'll get up close to the palms on a visit to the Huerto del Cura, the National Artistic Garden that covers a wide area and features a spectacular palm known as Sisi.
Experience the World Heritage City of Elche
Marvel at its extraordinary landscape of palm trees grooves
Learn about the annual mystery play staged at the Basilica of St. Mary
Explore the Huerto del Cura, the National Artistic Garden
Alicante´s province is full of feelings, festivities, heritage and flavours.
Explore the "La Mola´s Castle".
Admire the sumptuosity of the Saint Mary´s Magdalena Sancturary
Visit and admire a special winery, Heretat de Cesilia.
Share with your friends or family some wine from Alicante.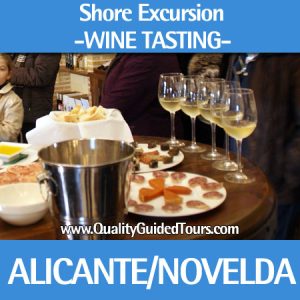 These are for us the thre best cruising excursions Alicante you can choose before you arrive to Alicante´s harbor.
If it is you first time in the city, a "must see" is the cruising excursion Alicante. If you have already been in Alicante you can choos goinf in 4h to other village in the surrounding area of Alicante. For exemple, Elche with two World Heritage Sites declared by the UNESCO claim the tourist to be visited.
Since romas the wine from this region has been very special, and now with its Denomination of Origin and with the proliferation of different wineries you can mix culture+wines and spend 4h discovering the history from other point of view.