Alcoy celebrate its Moors and Christians festivity in honour to Saint George.
In this Alcoy guided tour, we invite you to discover in 5h astonishing histories about the Industrial Revolution and its comparison with Valencia, Bilbao or Barcelona.
Surrounded by two Natural Parcks: Fuente Roja and Sierra de Mariola, and known because of its economical boom during the end of the XIXth begining of the XXth during the Industrial Revolution, Alcoy live its Moors and Christians festivity in April.
On the other hand, in this Alcoy guided tour we will have time to visit Saint Geroge´s church and explain you there the history of the captain mulsim Al-Azraq and Saint George, when he appeared the 23rd April 1276.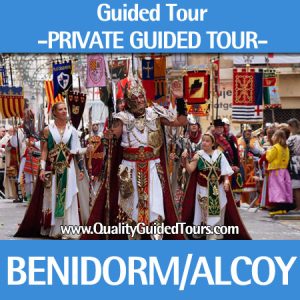 We will visit the recent Museum about the Moors and Christians festivity where to explore the differents customs, the three days of the festivity and the traditions of this charming village.
Llotja de Saint George: designed by Santiago Calatrava
The inhabitants of Alcoy say they are so brave and unique, because they have a masterpiece of Santiago Calatrava buried: it´s located underneath the Spanish Square. We will also visit it accompaniend by a local, expert and proffesional tour guide.
We will walk in the main streets of the historical city center like Spanish Square, Plaça de Dins or San Nicolau street. In San Nicolau street we will discover the best exemples of modernist houses like the Peakcook house or Circulo Industrial (like a Casino) where there is a unique private modernist library.
Lovely city with 60.000 inhabitants know not in ly because of its Moors ans Christians festivity, it´s also famous because of tis "Café licor": special alcoholic drink mixed with coke it gives you energy enough to enjoy the three days of festivity.