Description
Get inside the history of Valencia accompanied by expert and local private tour guide in this Valencia shared walking tour (3h)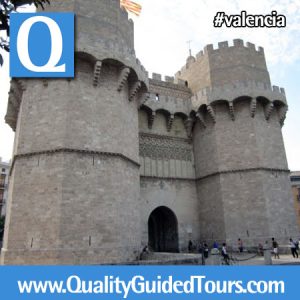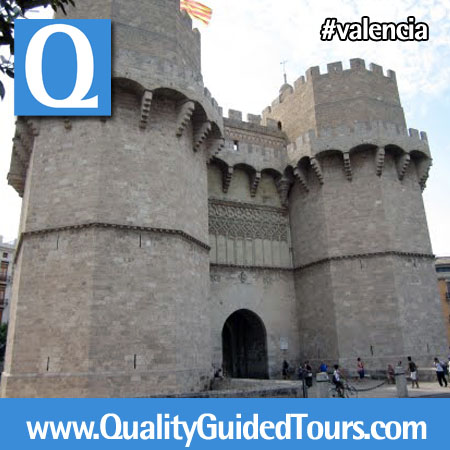 Start by enjoying "Torres de Serrano". Admire buildings of elaborate Modernist and Moorish design before arriving at the 15th-century Silk Exchange (Llotja de la Seda). Declared a UNESCO World Heritage Site of Mankind in 1996, it was one of the main buildings of Valencia during Spain's golden age. Once we visit the Silk Exchange building we will discover the Old Town of Valencia in a pleasant walking tour where we will enjoy visiting the Central Market: a masterpiece of Modernist design is where you can see the city in full swing as shoppers stock up on fresh fish, meat, fruit, vegetables and more. We will visit the unique Plaza Redonda,  with a wide variety of handicrafts and ceramic pieces typical from Valencia.
Next stop will be in the surrounding area of the
Cathedral, to enjoy the diferent three gates and its curiosities. We will enjoy the charming atmosphere of Plaza de la Virgen where will find the stunning Basilica of Our Holy Lady of the Forsaken; the patronesse of Valencia.
Our tour will finish in the Virgin Square with some recommendations from our tour guide in Valencia about where to eat or taste the typical Valencian Horchata.
Valencia, the 3rd largest city in Spain will amaze you. Charming pedestrian streets, enjoyable people and loads of traditions and Mediterranean life style!. With this Valencia shared walking tour you will ake part in a unique experience accompanied by local and experienced tour guides born in Valencia´s lands 😉
What's included in our "Valencia shared walking tour (3h)":
• Tour guide in Valencia
• Walking tour in the Old Town
• Tour of the surrounds  Valencia´s Cathedral.
Not included "Valencia shared walking tour (3h)":
• Ticket entrances for the Silk Exchange building +5€ per person payable to the guide at the beggining of the tour.
Important information about our Valencia shared walking tour (3h):
Small groups 20pax aprox. Min. 10pax to start the walking tour. We will let you know in advance if we have to cancel the tour.
You must pay the tickets to the guide before starting the walking tour.
The walking tour must start on time, get there 15min before to check you vouchers (printed or digital).
The guide will be there 15min before starting the walking tour with a sign saying Quality Guided Tours.
Check our meeting point for the Valencia shared walking tour (3h):
CHECK THE PLACES YOU WILL VISIT IN THIS VALENCIA SHARED WALKING TOUR (3H):
Ana & Jordi Linares Private Tour Guides in Valencia:
 Download complete information about our private guided tours
Download a catalogue (.pdf) with complete information about each destination (all our tours, meeting point, cancellation policy, recommendations, private transport, etc)
Alicante | Benidorm | Cartagena | Valencia
** Private tours developed by Qualified Local Guides. Book only professional private tour guides in Valencia. If you are travelling with a private group, family or friends, you can book a private guided tour + transport for your party**