Try "turron de Alicante", typically made with honey, sugar, and egg white, with toasted almonds or other nuts, and usually shaped into either a rectangular tablet or a round cake.
It is frequently consumed as a traditional Christmas dessert in Spain and Italy.
Spanish turrón may be roughly classified as:
Hard (the Alicante variety): A compact block of whole almonds in a brittle mass of eggs, honey and sugar; 60% almonds.
Soft (the Jijona variety): Similar but the almonds are reduced to a paste. The addition of oil makes the matrix more chewy and sticky; 64% almonds.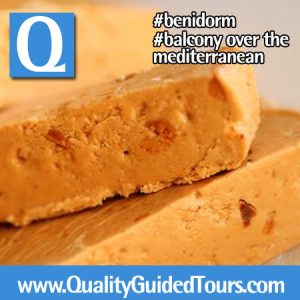 We can translate the word "Turron" in the word "nougat", for a better explanation.
The Nougat of Alicante, together with Jijona, the yolk and the chocolate, are the most traditional nougat of Christmas. As its name indicates, is typical of the province of Alicante and although its consumption is mainly produced in the Christmas season, today we can find it all year round.
Today there is a great variety of nougat on the market, and it is a product very appreciated abroad so, despite being still the star of Christmas, little by little, it is becoming a sweet fit for any season of the year. And is that … who does not fancy a sweet to accompany a cup of coffee or tea?