The small harbor of Benidorm, a quiet cove with fine sand, near the historic part of town and the port, between Poniente and Levante, famous beaches in Benidorm
The historic centre and the small harbour of Benidorm stands on a promontory located between the two main beaches, the Levante and Poniente. This was the original site of the city, a primitive fishing village overlooked by the church of San Jaime. Built in the 18th century, its blue domes rise above a network of narrow streets and picturesque corners.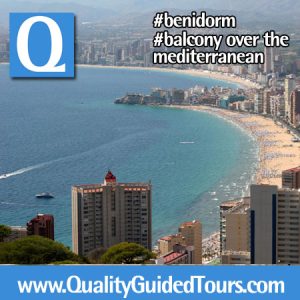 The small harbor of Benidorm is an important point because it divides the beach of Benidorm into 2, as we have mentioned before: Levante Beach and Poniente Beach.
Nowadays, the small harbor of Benidorm is the city center of the city and from there the different pedestrian streets start.
There is where we will find the main restaurants, discos and some pubs for enjoying part of the Benidorm  nightlife.
The small harbor of Benidorm is not so crowded with luxury yatch or small boats, it´s a quiet and peaceful area just for some walking or for having any drink.