Special gastronomy and cuisine in Benidorm!!
Benidorm, as a city that welcomes a multitude of cultures and people from all over the world, has a wide and rich gastronomy. In its streets we can find bars and restaurants offering all kinds of food, both national and international.
Rice with chard Benidorm, as a base, seasoned with fish, fowl, vegetables and sausages, by a great variety of methods in its preparation, and gazpacho (Andalusian cold soup), with characteristic usages and specific customs, either from the Plain, the Mountain or the Coast, are the most widespread culinary preparations in Alicante.
The rich variety of Valencia cooking mirrors the variety existing in its province and comes as yet another pleasant surprise to the visitor.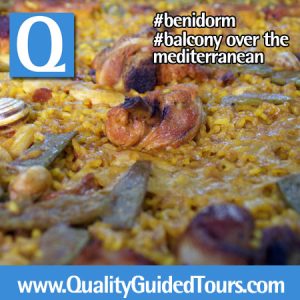 A typical Mediterranean diet includes lots of vegetables, fruits, beans, cereals and cereal products, for example wholegrain bread, pasta and brown rice. It also contains moderate amounts of fish, white meat and some dairy produce.