Description
New tour  in Quality Guided Tours!!
Enjoy a wonderful 2h Cartagena tapas tour!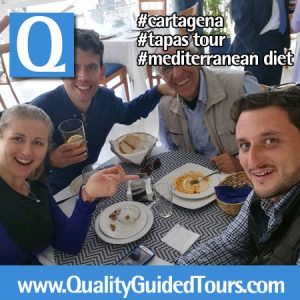 Discover a different way to enjoy, explore and delight a city with a 2h Cartagena Tapas tour. Meet your private tour guide close to the Cartagena´s port and stroll the city center accompanied with your foodie expert private tour guide in Cartagena.
Start this Cartagena Tapas tour in the town hall square with a general explanation about the area and the different buildings that we can appreciate accompanied by your private tour guide in Cartagena.
During our Cartagena tapas tour we will enjoy different tapas all of them based in the Mediterranean diet: vegetalbles, meat and fish.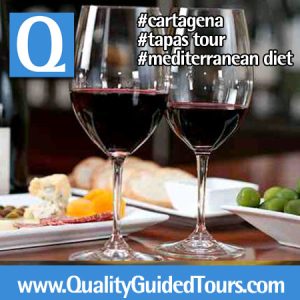 Continue the 2h Cartagena Tapas tour through Calle Mayor, the most important pedestrian street nowadays in the city center until we get to one of most important Roman street: the Decumano Máximo. In this area you will learn about the great Roman legacy of Carthago Nova during the Roman Empire.
Very close to Calle Mayor we will have the chance for our second stop. In this area is where all the locals meet for enjoying some tapas and share great moments and laughs during our leisure time. It will be a great time to meet with some locals and meet the restaurants we frequently go, now it´s your time in this Cartagena Tapas tour.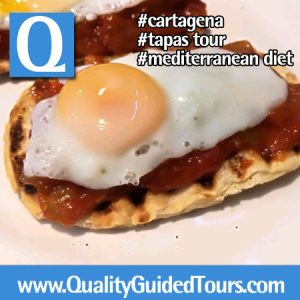 Almost arriving to the end of our Cartagena Tapas tour be ready to explore other historical area. In this last stop we will enjoy the most important alcoholic drink in Cartagena: the Asiático coffee.
It´s the best way to finish this Cartagena Tapas tour, with the local alcoholic drink Asiático Coffee in an old Spanish head-quartier from the XVIth century. In this last stop you will be given the Asiatico coffee secrets, so the best way to finish an amazing Cartagena Tapas tour with your private tour guide!!
This is not a normal tour, this is a Cartagena Tapas tour where to combine culture and traditions with our great Mediterranean diet!
The Mediterranean diet was declared Un-tangible World Heritage of the Mankind by the UNESCO in 2010. One of our best ingredient is the olive oil, used in our daily life, combined with vegetables or meat. This time you will discover this specific ingredient in all our tapas.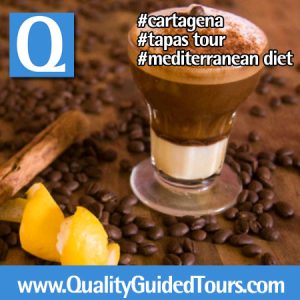 In each restaurant in the Cartagena Tapas Tour, depending on the tapa, we will recommend you to go for beer (beer or beer + lemon) or wine (red or white). We have excellent local wines with the some local grapes varieties such us: meseguera blanca or monastrell.
If you would like to get in more details about the foundation of Cartagena, the Roman legacy and explore a little bit more about the historical city center, please join our Cartagena 3h shared walking tour or book our Cartagena private 3h walking tour (our shared or private tours always start between 9h or 10h this Cartagena Tapas Tour will start betweeen 13h or 13.30h)
What´s Included in our Cartagena Tapas tour:
3 Restaurants
4 tapas
3-4 drinks
1 dessert (asiático coffee)
2h local and foodie private tour guide in Cartagena
Not included in our Cartagena Tapas tour:
Ticket entrances (not required).
Any extra drink or tapa NOT mentioned in the tour description.
Min. 4 pax per tour. Max 15.
Childrens will pay the tour (ask about this)
Depending on the day, the restaurants or menu will change
 Ana & Jordi Linares Private Tour Guides Cartagena:
Donwload complete information about our private guided tours
Download a catalog (.pdf) with complete information about each destination (all our tours, meeting point, cancellation policy, recommendations, private transport, etc)
Alicante | Benidorm | Cartagena |Valencia